I always jump ship on my concepts

Basically one day, a long time ago I was like.... if I were to make a game, what would it be? Formulating it all together, it was gonna be some whacked up 3rd Person Shooter that messes with classic Fables and Fairy Tales and stuff. And only now I actually decided to draw something for it. Basically it'd be simple, theres heroes and theres villains and they all clump up together in this crossover thats.... beat out of proportion.
Anyway I'm gonna... rant alot.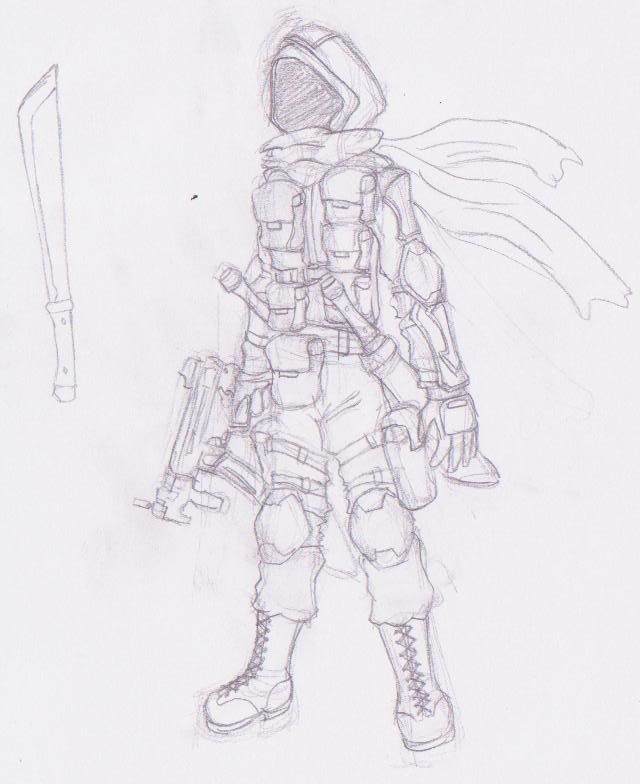 The 'Little Red Riding Hood'. Agent Hood. Close Combat Specialist, with expertise in various other combat fields. Your multi purpose special forces person. Gender is ambiguous.
I was trying to go for a kinda military combat gear look, but maybe I got a bit too carried away with the random satchels. Signature weapons would be two machetes. And a modular assault rifle that I couldn't be assed to design. Something like the XM8 or FN SCAR I suppose. Whether I rip off real life guns or use my own designs is... yet to be known. I don't really know how to draw guns that well. Well I just stuck an MP-5k in his hand for the shit of it. And he can generally use whatever the hell he picks up.
Well he'd(or she, who knows?) is the protagonist. If this were to ever exist, you'd play as Agent Hood. Part of a Good Guys alliance, where the headquarters is a dirty room in a roach filled motel.... where a TV with a pop art man gives overdramatic orders.... and somehow they'd find their high tech gear in random other motel rooms. To bash the original story, he'd have to deliver a computer chip to 'Grandma' in a high tech weapons research facility currently being besieged by the Big Bad Wolf Army. And said chip will bring the defense systems of said facility online. Assisting him here will be of course the 'Woodcutter'. Who is a big muscular shirtless Scotsman with a chainsaw in one hand and a machine gun in the other.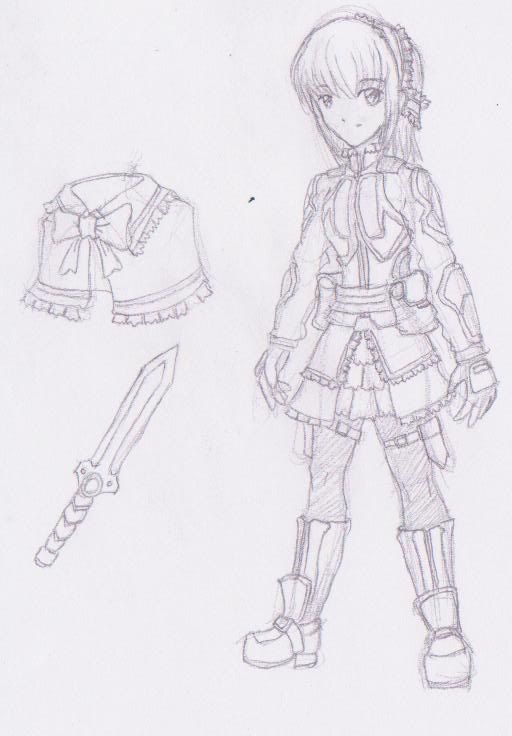 Alice from.... Alice in Wonderland. When all else fails, send 14-year old Japanese girls. Stealth, Scout, Recon, and Sniper are her fortes. Will be equipped with a crappy pistol sidearm, combat knife and well.... sniper rifles. Sniper rifles would be something like the H&K PSG1. Or to put it simply, a semi auto sniper, 10-20 rounds, blah. And of course an anti-materiel sniper. A .50 BMG Barrett model or something. Probably bolt action, but I've looked around on gun websites and the semi-auto XM500 looks kinda cool.
The general idea behind the design is combat gothloli. Flak jacket, boots, belt with stuff, coupled with.... gothloli stuff. Frilly mantle, frilly headgear and frilly skirt. Not entirely practical but I'm sure more practical than other gun toting gothlolis out there. I'll have to draw her with her mantle on sometime.
Well to bash on the story.... Wonderland is basically a giant Casino. Which of course is run by a criminal syndicate led by the so called Queen of Cards. Under it, theres like a weapons factory, a crazy biotech drug manufacturing facility led by none other than the Mad Hatter.... and various other ridiculous things. And drug dealing, weapons smuggling and all kinds of crap goes down there. After Hood is done with his mission, he comes to assist Alice in taking this joint out.
Alice would be the only anime styled character. I'll try my hand at more western styles of drawing. Maybe something Marvel-esque to things less serious like... I don't know. Random not Marvel Cartoon Network stuff.
And later on, we'd hit Peter Pan, who leads a team of elite soldiers all packing flying suits of Power Armor equipped with giant machine guns and missile launchers. And Captain Hook is a Pirate with a missile launcher laden warship of retarded proportions. And it turns into a giant robot too. And somehow I'll have to bring Wendy into this..... Not sure how I'm gonna mess with things like Aesop's Fables....
Somehow the ultimate plot will be control of this 'Reality Engine', that is linked to the collective human consciousness that defines their world. And the Bad Guys plan to mess with it and change 'Reality' to their advantage.
Basically I'm getting a kick laying the foundations for this. Who knows, maybe I'll get somewhere with the design course I'm in and actually get hired as a game designer and end up making this. People can dream