Well there was an old Art Thread in the old Animetric, although I'm not sure if any of the artists besides myself have returned.
At any rate, here goes an image spam and text spam of my latest creation-
Earth Defender Gothloli Miori
The story? Aliens are attacking Earth and we all don't know it. Theres battles in space and its all hidden from the public. Our defense isn't perfect and occasionally some aliens break through. And they attack Japan, because they invented Mobile Suits, Super Robots and most of the stuff up in space hindering the aliens.
Enter the final defense! A high tech battlesuit infused with nanotechnology! Increases all parameters of human limits and lets you fly and has energy shielding and is more fubar than Master Chief's Mjolnir. This battlesuit was developed on the moon and was going to be transported down to Earth as the final line of defense, but the facility was infiltrated. Everybody was killed. The professor who created the suit, to protect the suit…. transformed it into…. a gothic lolita dress.
So now he's dead, the suit is recovered and only people with the correct measurements can wear it and they have no idea how the hell to fix it. Enter Miori. The person in Japan with the lolita measurements…. with the highest mental maturity. High School Student. 1st Year. Stunted growth for some reason or another. Either way, the secret organization like the Illuminati who organizes all this anti-alien stuff and hides it from everybody…. gets her, or rather forces her to be Japan's final line of defense in case of alien breach of the space defensive layer. And they tried to get a bunch of 9-10 year olds to do it, but got beaten up by their mums. Scary mums.
And thus begins her adventure as a not so magical girl, flying around, defending the world. The battlesuit is extremely durable, lets her fly, protects her from all kinds of harm and increases her strength extraordinarily. Its like The Tuxedo, but more rigged. Equipped with a Gatling Gun which fires two bullets at once, with dual ammo belts, supported by verniers and anti-grav technology to make it virtually recoilless. And the ammo belts come out from under her skirt, which is a teleportation gate to an armoury. And so are her sleeves. And of course she has a melee weapon, an oversized vernier propelled ZANKAN-…… vibroblade. And she has a target painter for missiles, which she can request to be teleported out from under her skirt. And to round it up she has a High Energy Sniper Cannon and that Mega Bazooka Launcher thingy. And she has to put up with this until they redevelop a new Battlesuit. And she has a support AI which is some retarded robot cat head thingy that can transform into an MP3 player. And in battle, it transforms into a headset and allows communication to headquarters and armoury. And of course it provides her with tactical data and backup. And she has a Danish Instructor. And a British Commander with slicked back blonde hair and sunglasses.
Aliens have advanced biotechnology and often just.... grow their weapons in tanks and send strange monstrosities towards the Earth.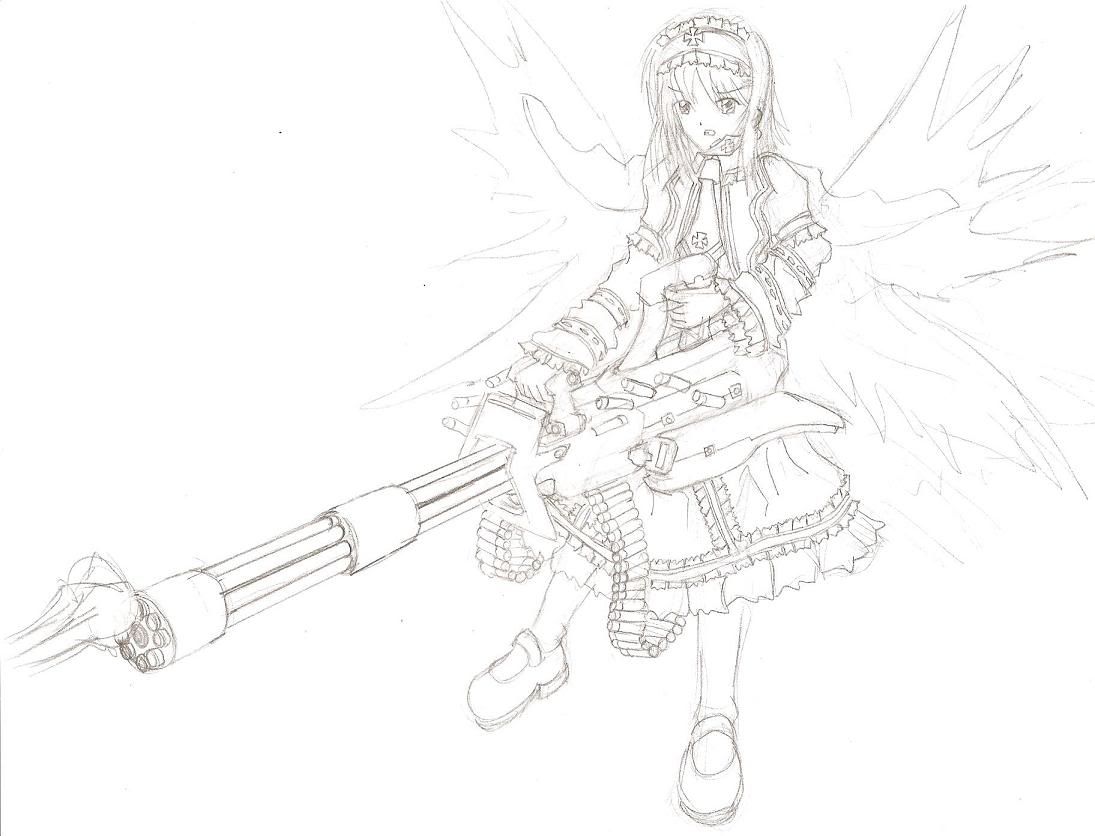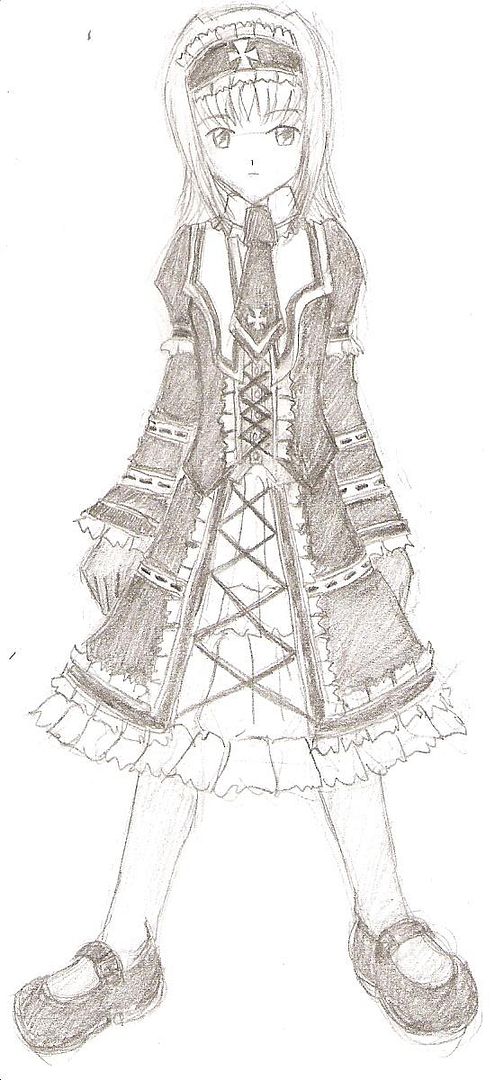 Initial designs.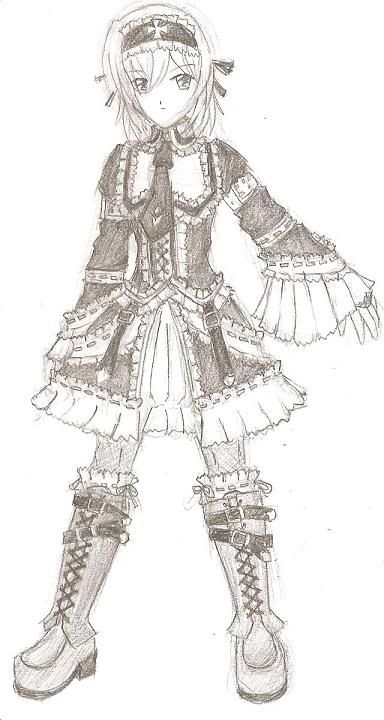 Final Design. For now anyway.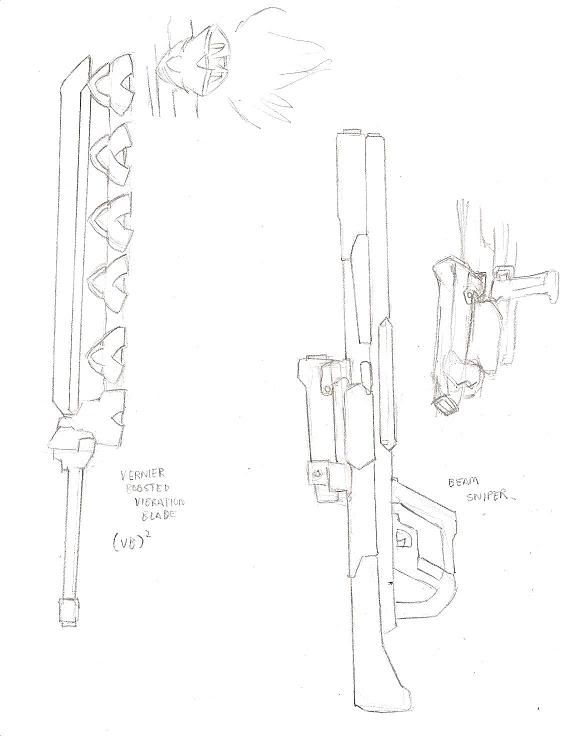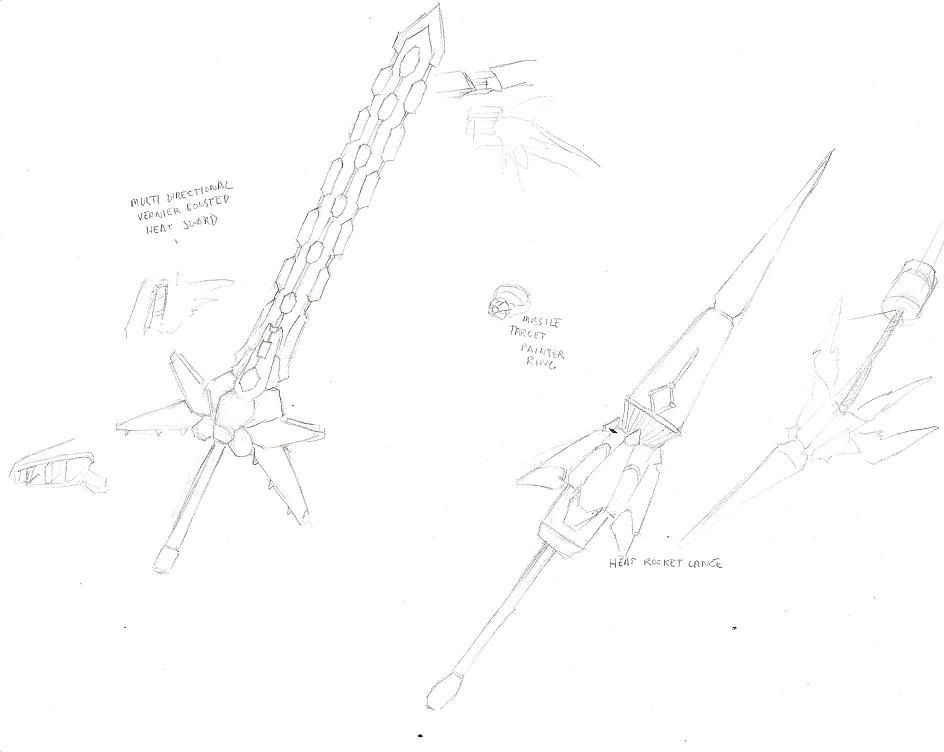 Current weapons. Blade, Sniper, Sword, Rocket Lance and Target Painter.
Beam Sniper is powered by a fuel rod that can be launched out as an explosive shot. Power varies on charge left, which would be like a frag grenade to a tank shot.
Sword is a less powerful more versatile version of the Blade.
Rocket Lance is for getting through the toughest armours and Rocket Anchoring.
Target Painter is for missile strikes. She can ask the Armoury for missiles to be launched out of her skirt and sleeves and she uses the target painter to direct them towards their target.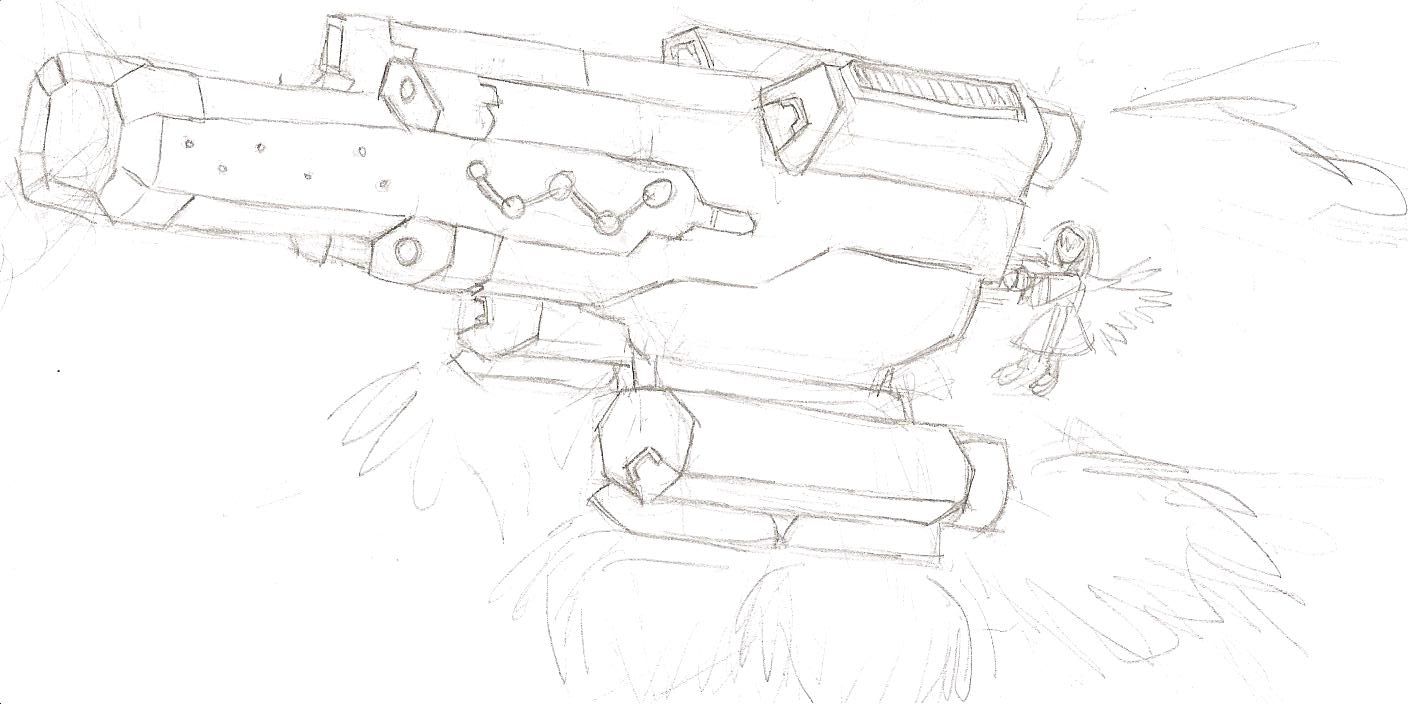 Ultimate Weapon.
Weapons not drawn individually yet would be her 20mm High Explosive Gatling Gun. And another weapon currently planned is a 7.62mm Single Handed Gatling Gun + Beam Rifle. Two in One.
And perhaps, all of humanity finally figure out whats going on from the rapid alien drops and Miori has to have a public image as a hero so she has to embark on a Magical Girl Anime marathon to learn the poses.
Will I ever make a comic out of this? Who knows.
http://depleted.wordpress.com
More random creations at my blog.