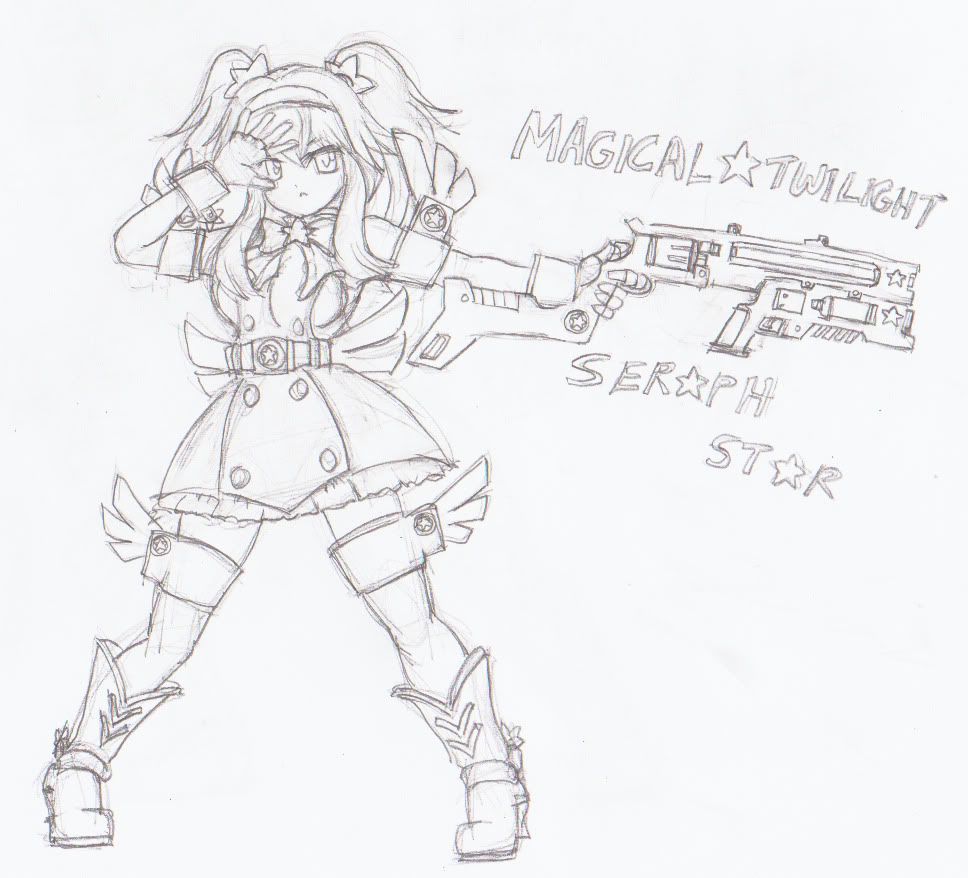 Hoshino Hikari. A normal 13 year old girl. Maybe not so normal. The milk she drank has obviously affected her breasts and thighs more than her height to her chagrin. But besides that pretty normal. Okay, she has blonde hair and blue eyes and was found on a roadside as a baby by a random Japanese couple thus her racial identity remains a vague 'European or American or something'. But besides all that... pretty normal.
Until that fated day. The destined meeting with the spirit beast Orion. To fend off the attack by the Dark Stars, she made a contract with Orion to become the Star Warrior of Justice. Magical Twilight ~ Seraph Star ~
Tasked with defeating the Dark Stars, vile creatures who feed off the negative emotions of human beings and to purify them into Twinkle Stars using the power of her star magic. The power of the Twinkle Stars are then used to seal Negative Gates from which the Dark Stars emerge from.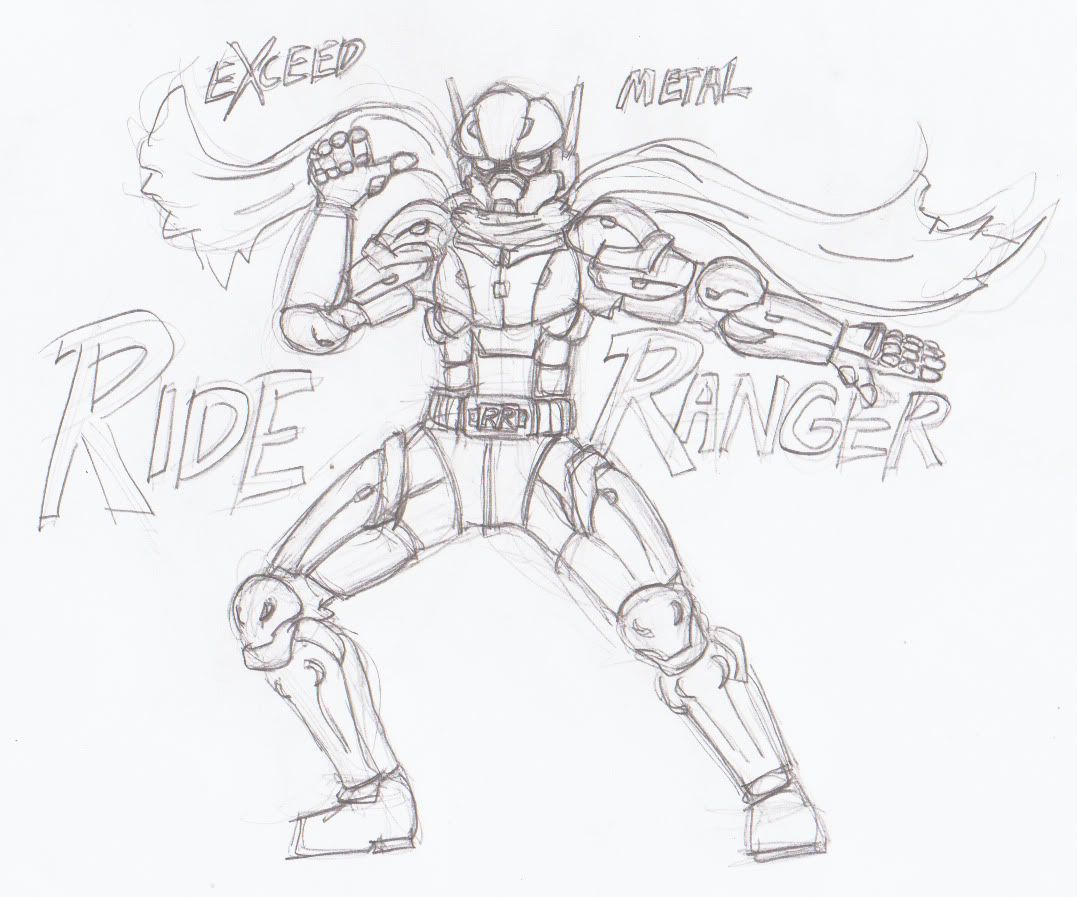 His first memory was being in a laboratory. Experimental Cybernetic Soldier 0 or ECS-0 was his name. Under their orders, he would eliminate targets one after another. There was nothing to it, just follow orders. It was his only purpose in life.
Until that fated day. The man he had murdered. The cries of his wife and daughter shook up something within him. It was wrong. His life, all he had been doing, all his orders. All wrong. As if he had awoken from a long slumber, he had grasped something called free will.
His sins were heavy but that did not deter him from his duty. His path was decided, the harsh road to redemption. To defeat the Evil Organization Zapper, the very organization that created him and continue to manipulate the world from the shadows. Whatever his life was before they made him what he was, or whether he was merely built from scratch mattered not.
Defeating Zapper now was his destiny. His destiny as a Warrior of Justice.
Exceed Metal - Ride Ranger.
===
It all began with a misunderstanding.
The girl about to finish off the Dark Star.
The man who thought a monster was about to finish off some crazy cosplayer and her toys.
Ride Ranger had annihilated the Dark Star with a Breaker Kick.
Seraph Star was left without a Twinkle Star to seal the Negative Gate.
This is their story. A story of magic, justice, sparkles, spirit and everything else in between.
This is --
Exceed Star ~ Ride On!! Twilight! ~
---------------------------------------------------------------------------
Exceed Star ~ Ride On!! Twilight! ~ is a new story idea of mine involving a crossover between a magical girl(Sailormoon, CCS, etc) and a tokusatsu hero(Kamen Rider, Super Sentai). Meant to be filled with parodies left right center.
Seraph Star is a more contemporary take on the magical girl genre somewhat, but still utilizing the usual tropes. She is a young girl contracted by a cute mascot character to fight evil. But she wields a magical revolver rifle with an underslung magical grenade launcher and has a more crazy flight shoot assault sorta attacks akin the Nanoha series. So I guess conceptually she's as traditional as Sailor Moon but in terms of presentation and her attacks, she's more like Nanoha.
Her weapon is the Gemini. Composed up of a magical revolver rifle called Castor and the single shot grenade launcher Pollux. They fire a special magic crystal ammunition supplied by the Spirit Beast Orion. Orion is a creature from the Positive World, essentially a parallel world that has formed from the positive emotions of people. The Dark Stars conversely come from the Negative world. Due to the current nature of the world, there has been more negative emotions causing an unbalance to occur and the Dark Stars to emerge to wreak havoc. Orion and Seraph Star aim to maintain this balance and reduce the negativity of the world. To transform, she uses the Star Belt.
Her costume design has a star motif throughout. And also 3 pairs of wings, thus the Seraph in her name. I decided to place the wings in less conventional places, upper arm, thighs and behind her waist. Hard to see in the picture, she wears spurs on her wrists and heels, hence the cowboy boots. She'll have some melee attacks using them where the stars grow into giant energy stars. Her heel drop kick will be called something like Meteor Fall. Or maybe I'll name it Hale Bopp instead.
Ride Ranger is modeled mostly after Kamen Rider. His story is largely the same as the first Kamen Rider, a human who was abducted by an evil organization called Shocker and turned into the cyborg Hopper. After a hit job, he awakens from his brainwashing and realizes what has happened and decides to fight against Shocker as Kamen Rider. Ride Ranger is a cybernetic soldier created by the evil organization Zapper to do their dirty work, and after a certain hit job he gains a free will and decides to fight for justice.
Ride Ranger's name itself is a parody of those sorta heroes. Ride from Kamen Rider. Ranger from the Super Sentai line. Like those heroes, he will utilize a series of special named moves. So far I have Blast Knuckle and Breaker Kick. And enemies he defeats with those moves will be completely annihilated in a mysterious explosion.
For the suit design, I have referred to a bicycle helmet and those extreme sports flak jackets. His suit is quite armoured giving him a look more like the Metal Heroes or the newer Kamen Riders.
Like the heroes he was based off, he as a transformation sequence and utilizes a belt. The joke is though, when untransformed he is perpetually wearing his scarf and a plastic kid's mask modeled after his helmet. And also the fact he never ever rides anything(Kamen Riders tend to ride bikes) into or in battle. Which makes his name a bit contradictory. Untransformed, he leads a normal life as a teacher in a middle school. Yes, Seraph Star's middle school. And he's her homeroom teacher. And goes by the name Jiro Yamada. Seraph Star is the only one who thinks he is Ride Ranger and nobody else seems to be able to make the connection, thinking his mask and scarf are perfectly normal. Thus playing out the thinly veiled disguises trope. Although the joke is that Seraph Star is the one with the weakest disguise as only her outfit is changed. Yet she's the one poking at Ride Ranger's disguise which would be perfect if not for his quirks and as long as he didn't transform in front of people since post transformation he has a goddamn helmet on.
So the story starts essentially when Ride Ranger pursues Zapper's operations to the town where Seraph Star works. Thinking one of the Dark Stars are Zapper's new creation, he annihilates it with a Breaker Kick leaving Seraph Star lost for words. A Negative Gate remains open for more Dark Stars to emerge from. And then an untimely attack by Zapper's minions shake things up!
After a rocky start, the two decide to join forces. Or rather make sure they don't get in each other's way. But of course the organization Zapper has their own plans regarding the Negative Gates and the Dark Stars and only with the combined powers of Ride Ranger and Seraph Star can justice prevail.
Updated Design Sheet.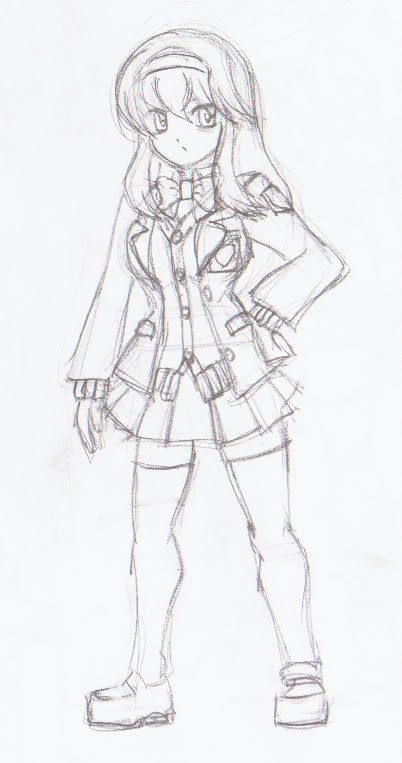 Schoolgirl version.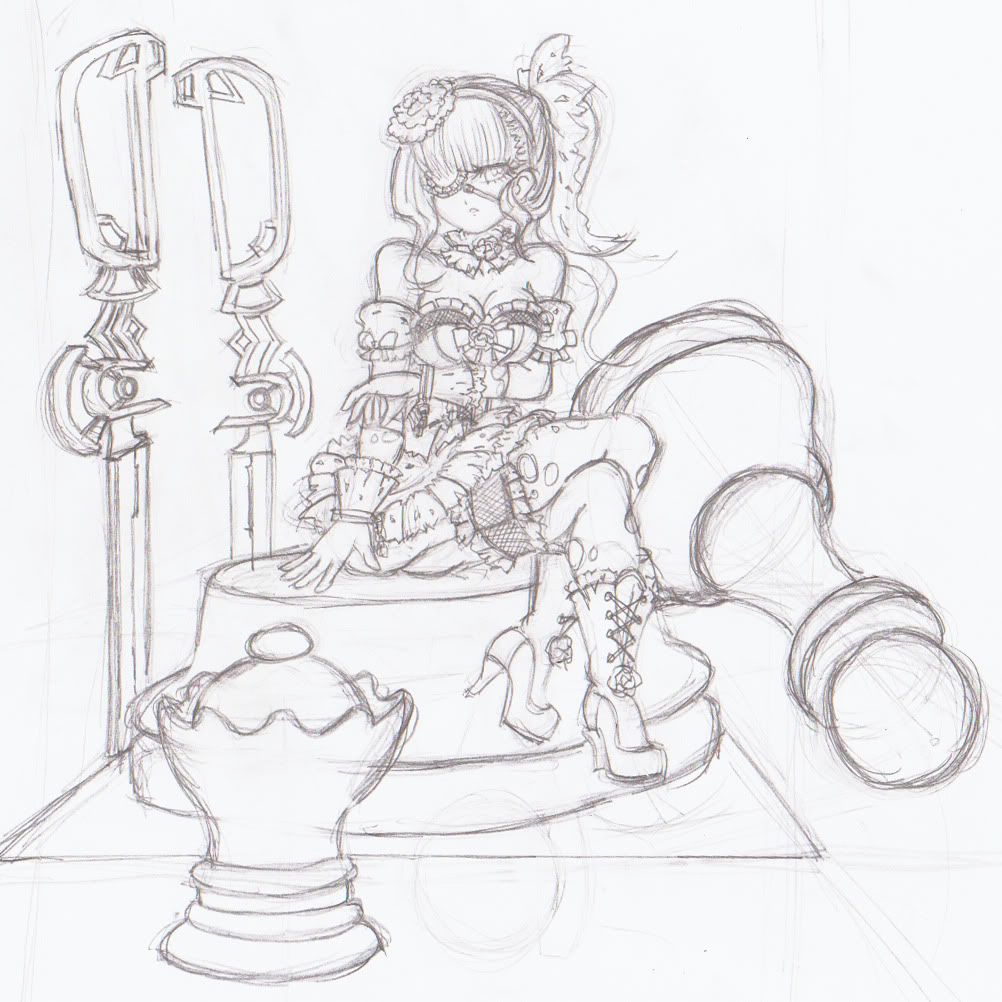 Now to write a bizarro piece involving scissors and chess pieces. Man I really should work on perspective.