New RPG idea, set not strictly in the 1920s but more like an alternate fantasy-ish world that is modelled after 1920s… Chicago probably. Wherever the hell there were lots of mafia and gangs and crap involving drum fed Thompson submachine guns and lots of fedoras. It will be an FPS/TPS RPG.
Setting and General Gist
The idea is that there is an ethereal world which is completely unlike ours. It is generally just a sea of intelligence where information kinda just swirls around endlessly. This world lies parallel to our physical world and occasionally rifts open up between them and they tend to effect each other. The laws of our reality get bent by their world, which causes things like unexplainable natural disasters and UFO sightings and other sorts of supernatural events. In reverse, our world causes individual consciousness to emerge within theirs.
These individuals generally lie dormant within their world. Since its just a sea of intelligence, there isn't anything to do essentially. But through these rifts, they can sometimes flow into our world in the form of spiritual entities. These spiritual entities are generally harmless, at most being poltergeists. But if they should by chance enter a human being and gain access to his intelligence, they thus understand the world they have come into and truly awaken, building their own individuality. Sometimes they remain as mere alter egos or second personalities, brushed off by most people as mere dissociative disorder. Other times they manifest themselves in much greater capacities. Since they come from the ethereal world, they cause a connection between the two worlds. And since the other world flowing into our world causes reality to be warped, these beings can essentially perform magic.
The beings that can perform magic have been explained by humanity to be demonic possession, the voice of god amongst other things. These beings can either be benevolent or malicious.
This ethereal world can more or less be compared to the Fade of Dragon Age or rather, the Warp of Warhammer. Except its like a more ambiguous version and less DEMONS EVERYWHERE.
As for how humanity deals with all this, they either try to brush it off with some kinda coincidental scientific basis or just use the usual IT WAS A DEMON or IT WAS GOD crap. But really, nobody knows how it really works and got it all wrong. Even the spirits aren't too bloody sure on how it all works, having kinda awoken utilizing our intelligence. So they are kinda just… I CAN MAKE THIS GUY THROW FIREBALLS I MUST BE A DEMON. Or I CAN MAKE THIS GUY HEAL PEOPLE I AM GOD.
===
The game takes place in one of these 1920s ish cities. The only order are a bunch of warring gangs. They maintain order of their own turf and try to expand their territory. Some of the possessed with magical powers exist in this city and have gathered under a gang. This gang kinda does occultish things, sacrificing people and rituals and crap like that. Which generally doesn't do shit, but the possessed think they do and it kinda causes them to manifest new powers. They could essentially tap into those powers if they tried hard enough to develop their powers or thought about how to manipulate it, but the power to fuck with reality is a very fickle thing and so is the placebo effect. By this blood sacrifice I shall call a meteor onto your head! Thus it works.
Underneath though is the Church. They have agents hidden in all the gangs essentially and only care to dispose of 'demons'. So they kinda manipulate the other gangs to attack the demon gang, or send out their own killing teams and put the blame on the other gangs instead. The Church here on the surface is kinda like today's Christianity somewhat, but underneath they have like armies at their disposal. They also have their own possessed personnel, although rather than being called possessed they are more like the chosen ones, spoken to by god or reincarnations of saints and other crap. Since they were justified like such and the spirits kinda awoken into such an environment, they too believe it to be true.
Story
So you play as one of these spirits that just awoken in the world. But rather than possessing someone, you've kinda… displaced somebody instead. Your host was a random bum kidnapped by a gang who dabbles in the occult to be sacrificed. So your host basically got turned into swiss cheese by a machinegun and dropped down a pit along with a whole lot of other people. And then they left the corpse pile to rot for a day before setting it on fire and you simply awoke. The shock of getting shot essentially caused your host to 'die' although the body didn't really get hit anywhere critical and was fit for living in, and by mere coincidental chance(or the sacrifice spot was actually atop one of these rifts between the two worlds), you just took over that body. So you are like buh what I'mma get up and fuck off.
But on the way out through a tutorial stage, you get spotted. You realize you can regenerate light wounds(magic happening caused by survival instinct, justifies regenerating health formula whoopee) and you can immolate people(holy fuck those guys are shooting me I need to do something! Then magic happens). Then you escape, the city is out in your face so you set off to do whatever you want. To give the player a bit more direction, you'll probably get a main quest along the lines like find out about the people that put holes in you. Then further on you can deviate, ignore them, join them, destroy the city, whatever.
Clothing System
People judge you by what you wear. Think Fallout: New Vegas where you can wear faction clothing. But more depth than just OH MY GOD YOU ARE NCR I AM CAESAR I SHOOT YOU.
You start off dressed like a bum. You try to walk into a bar and they are going to kick you out. So you can like, find a more fortunate drunk guy that has collapsed somewhere, drag him off into an alley and take his clothes. Or break into an empty house and get better clothes, and like get a shower so you look even better.
But like you dress too damn nice and start like strutting around slums and shit, people are going to look at you funny and even mark you out as a target to mug.
The gangs will probably have uniforms if you wanna get associated with them or infiltrate them. And they will come with their own pros and cons. People will fear you in certain areas. Some people might wanna kill you. Go into the wrong turf and you'll most likely be shot at.
Equipment and Appearances
Weapons will be WW2 sorta guns. But mostly be pistols and SMGs. Also there will be melee weapons like knives, lead pipes and the like. Usual stuff. Some are concealable, some are not.
The idea is that the weapons you have on your body will affect how people deal with you. Like you can't really hide a rifle or an SMG(unless its one of those really mini ones I guess), so you'll have to like have it slung on your back or something. People will generally be scared and try to avoid a guy who has a weapon out in the open, but you will like attract negative attention from the gangs policing the area. Like what is a random dope packing heat in the open doing on our turf?
To conceal bigger weapons, you will need like a suitcase or something. So you can carry a suitcase around, which can contain like an alternate set of clothes maybe along with a bigger gun and ammo. Like maybe you need to assassinate someone, bring along a disassembled rifle to an empty lot and snipe somebody, pack it back up. Or you need to shoot up somebody in a bar, but shooting your way in tends to be a bad idea. Bring along your smg in a case, take it out in the toilet or something, come out and shoot who needs to be shot possibly in different clothes even(maybe pin the blame on another gang). In the chaos, go pack your shit and leave.
Will probably be complicated but you could like do a lot with it.
Magic and Appearances
Basically, explode too many heads with magic and you will attract attention. The church will start investigating and looking into your ass. The demon gang will too.
And like you could potentially use this to your advantage. Go throw some fireballs in the turf of a demon gang, probably near their hideouts. The church starts targeting that place. Whee.
====
I'll leave it there for now. Still need to sort this shit out better.
=====
NEXT GAME IDEA. NOW WITH PICTURES~!
=====
At any rate I'm toning the ambition down with this one. The idea is a 2D Free Flight Hack n Slash with a side of Shooting. Tentative title is ANGELxEDGE(pronounced eyn-juh l ej). Because well, you play as an angel, and she cuts shit up.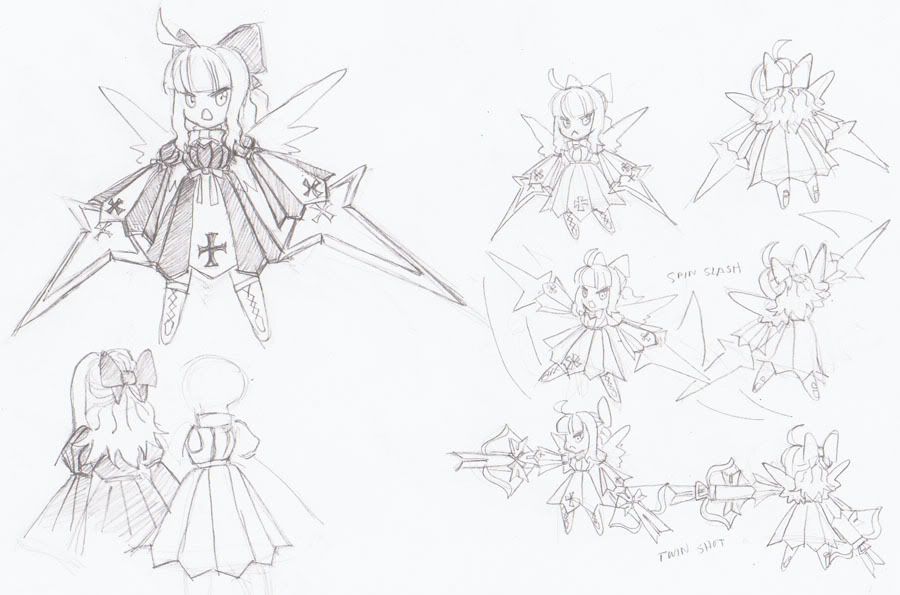 Basically this is Celestia. She is an angel. With blades for hands. And sword launching crossbows.
STORY THUS FAR
Basically the King of Hell got the date wrong for Judgement Day and unleashed his army on Earth. The King of Heaven is asleep(the bum) and Heaven is completely unprepared for such an event. Hell's minions occupy Earth way too easily, get bored and decide to invade Heaven. The gatekeeper of Heaven, an angel by the name of Celestia gets pissed off at the bullshit that has transpired and decides to show Hell just who is boss. By means of holy judgement via bladed weaponry.
And thus begins the story of an angel out to lay waste to hell's minions for getting their dates wrong and trashing Earth thousands of years early.
Either way, why is not important. This is a game idea, a main character is up against impossible odds. Space marines fight hell minions on mars, children with prototype military robots change the tides of war, commandos jump from from missile to another fighting ninjas atop helicopters. The bottom line is you do awesome shit.
DOING AWESOME SHIT - Gameplay Ideas
As mentioned this is a free flight 2D hack and slasher with a side of shooting. It'd probably be easiest to explain with control schemes.
But the core idea is all around movement combined with multi directional attacking.
Melee attacks could probably be orientated in 4 directions, 8 if really necessary. No reason for ranged attacks to not be 360 degree capable if the controls can pull it off.
Console Controller
One stick for movement. One stick for attack. Think Grid Wars. Instead of mashing one button all the time, keeping your attack stick held in a direction is akin to constantly attacking in that direction. So you fly around as enemies come from all directions and slash/shoot your way through it.
Special abilities will be handled via the shoulder buttons. Probably a pair to swap back and forth and one to activate.
Handheld
Thinking of the DS/PSP here. In this case we're limited to four directions of attack, using the AB/XY of the DS or the 4 Sony buttons. Shoulder buttons for special abilities. One to switch between them and one for activation.
PC
The screen will always have to be centered on the player character to work. Mouse controls the attack direction, WSAD or any other keyboard buttons can work for movement. Assuming WSAD is used, buttons like Ctrl/Shift/Q/E/Spacebar can be used for special abilities.
===
But either way I think my point is clear. You fly around kicking major ass. If I had to take a game as a comparison, I guess Bangaioh would be the best fit. Or that Seventh Heaven robot flash game.
The idea behind being able to choose your attack direction though, even if it does make it harder to manage - simply the ability to attack an enemy while flying away is quite invaluable. You do not want to be flying into like a missile to shoot it down.
Other options would be auto melee function - you automatically slash at enemies within range allowing you to concentrate on movement alone. But that admittedly takes some of the fun out. You kinda need a trigger to feel like you are doing something.
Melee attacks will generally occur in a continuously slashy loop. Infinite combo. But enemies will either be so low health or not be stunned by attacks that you can't endlessly slash something to death. You have to break off and wait for openings and such. I'm thinking of an autoparry system, where constant melee means you deflect weak attacks at a cost of a stamina bar which when depleted, means you are fucked(take extra damage from the attack that depleted you and can't attack for a while or something). Stamina bar will regenerate over time as long as you are not attacking and your attack damage will decrease(down to 50% maximum) as it drains.
Ranged attacks will be weaker and slower than Melee attacks and lack any defensive mechanic of any sort. But well, its ranged. Most suitable when being overwhelmed by large numbers, where you can play a keep away game by flying away and shooting into clusters of enemies to thin their numbers down. Some especially defensive enemies that while normally are hard to hit with melee attacks, more easily exploited with ranged attacks.
Instead of free access to both modes of attack just like that, you have to perform a weapon switch. Switching causes you to be stationary for a short amount of time, but long enough to mean getting hit in the midst of battle. So you think ahead a bit.
Specials will probably run off a special bar that builds up as you kill enemies or perform higher melee combos. Different specials will eat up different amounts of the bar. Weaker ones will eat up like a quarter, really powerful ones will consume the entire bar. Maybe some specials skills consume the stamina bar instead of the special bar, but those will be of the weaker kind. Specials will probably range from stuff like a piercing arrow, a powerful slash through in your flight direction to crazy stuff like super cross laser of annihilation or machinegun arrow hails to more passive stuff like a damage-reduction-nostunlock barrier or healing.
Maps would be like a spacious version of Castlevania. There will be areas to fly between and a bit of exploration added. But the game will be stage based so not everything is packed into a single large ass map. So its like a spacious version of Castlevania chopped up into slices. There will be platforms and stuff that can be used as cover, possibly some destructable bits here and there and spikes even. No point just flying around in plain boring air all the time.
Now with the general premise out of the way....
Minions of Hell
Fel Forks are the most basic minion of Hell's forces. A lesser demon born from base evils of mankind. Generally exist to torture souls in hell by stabbing. They will be the basic grunt of the game. They generally fly around slowly, don't pursue you that much. Fire a basic triple shot at you every now and then, and take a thrust at you if you get too close. Weak, dies fast but theres gonna be hordes of them.
Trident Lords are Fel Forks that have existed long enough. When bathed in the fires of hell long enough and exposed to enough corrupted souls, a Fel Fork has a chance to grow to a Trident Lord. Trident Lords can control Fel Forks via a hive mind like link and organize the torturing of corrupted souls in hell. Gameplay wise, a Trident Lord will probably be the first boss. Bigger, faster, tougher and way more aggressive than a regular Fel Fork. It'll have a few basic attacks, repeated blasting from its tail resulting in a curtain of bullets, a thrusting tail combo assault and a wing attack which blows you away. Fel Forks will be summoned periodically by the Trident Lord throughout the fight. A wing attack will most likely be followed by a swarm of Fel Forks from all directions.
In the latter levels, weaker version of the Trident Lord will most likely appear as leader type enemies or mid bosses.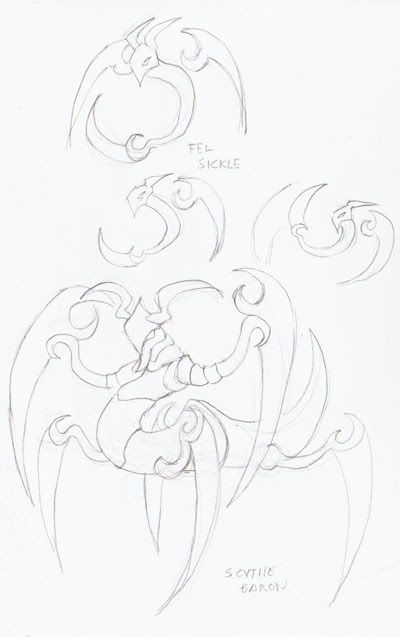 Fel Sickles are lesser demons that reap the souls of corrupted humans. And well, enough people die around the globe to warrant the job given to a caste of demons. They will be basic grunt number 2, melee orientated. They mostly chase after you slowly and reel back before utilizing a tail slash which rolls them forward. Mostly exist to harass and fly in your face.
Scythe Barons are Fel Sickles that have reaped enough corrupted souls to transform completely. Scythe Barons oversee the souls reaped by the Sickles and ensure they go where they belong. 2nd boss most likely. Chances are you have to fight it in an enclosed area. Its attacks would be lashing out with its scythe arms, slamming the ground to cause stalactites to drop from above and EYEBEAMS. It'll also call Sickles to its aid in battle. You'll most likely have to utilize ranged attacks against it, due to its large scythes obscuring melee passages. They will probably also block ranged attacks, but you'll have opportunities to strike when it lifts them up to attack.
Weaker versions will probably also appear as mid bosses/leader type enemies.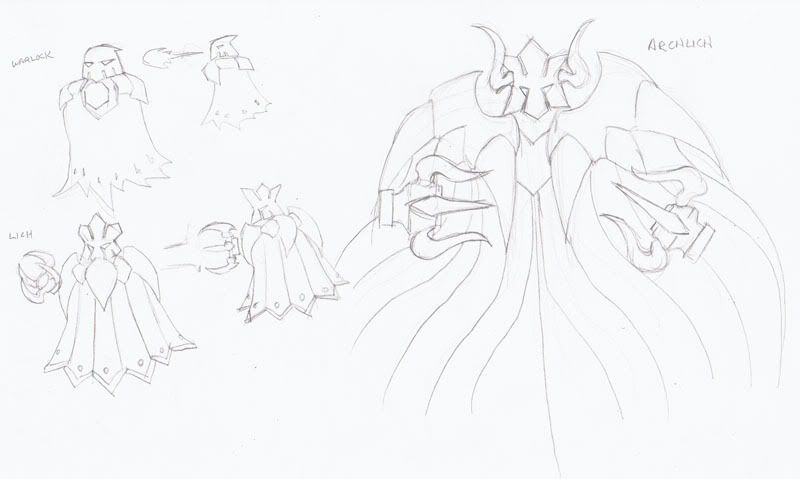 Warlocks, the corrupted souls of spellcasters forced into a daemonic shell, pressed into service for Hell. Their shell causes them constant torment, which makes them all the more eager to inflict it on others. These guys are higher level enemies. Essentially more aggressive versions of Fel Forks. They will actively pursue you, trying to keep on the same horizontal plane as you are. When ready, they will launch volleys of fast moving fireballs at you. Also ranged attacks will pass straight through their cloaks, making them hard to hit outside of melee. They are frail though, dropping with a single attack and are only able to attack you horizontally. But their constant assault and chase makes them hard to fight head on, so you will have to rely on your flight and assault them from above or below.
The more powerful the spellcaster, the more powerful the soul. Those strong enough become Liches. Their souls are constantly burning in Phylacteries in the fires of hell. As long as they are provided with a new shell, they can return to the service of hell. Liches are basically stronger versions of Warlocks, appearing to lead small groups of them. Rather than constant chase and assault, Liches function more like snipers. They will assault you from outside your sight range with a beam of dark energy, generally preceded by a 'seeker' line indicating where it will fire. Rather than directly kill you, they serve more to distract and cut off your movement options which allows the Warlocks to overwhelm you. When approached, a Lich will attempt to flee outside your sight range while attacking you with slow moving fireballs. They are very slow however and aren't very durable either.
When the souls of multiple liches are forced into a single phylactery, they can merge into a single powerful daemonic entity. An Archlich boasts awesome power and leads the warlocks and liches to battle. An Archlich would be a boss type enemy, probably not recurring. The battle will take place within a barrier erected by the Archlich. It will stay in the background and the tangible objects you fight will be its claws and head. The two claws will float around assaulting you with an array of energy beams and bullet curtains. The head will be its weak spot, remaining unreachable in the background until it uses its eyebeams at which it will lean forward to expose itself. Destroying a claw will also stun it, causing it to lean forward and expose its head. Destroyed claws will regenerate after a while. Should both claws be destroyed at any one time, it will summon some warlocks to and liches to fight for it until its claws regenerate.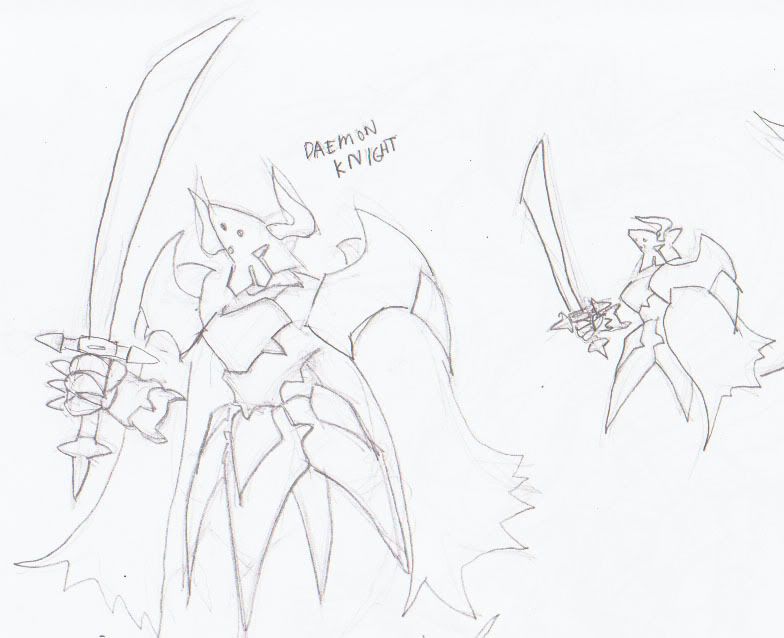 Daemon Knights are the King of Hell's personal guards. Daemonic souls encased in daemonic armour. A higher rank of Daemons that keep order in Hell. They appear as leader type enemies in small numbers, at like checkpoints and perhaps as midbosses. They generally attempt to maintain the same horizontal level with you, taking large arcing swings with their swords which forces you to keep away. They pause after every few attacks however, allowing you to assault their weak point - the head. Generally accompanied by appreciable numbers of Forks and Sickles and sometimes Warlocks. There will probably be an area where you are stuck in a corridor and gotta fly backwards away from a berserk boss-ish version which keeps swinging its sword.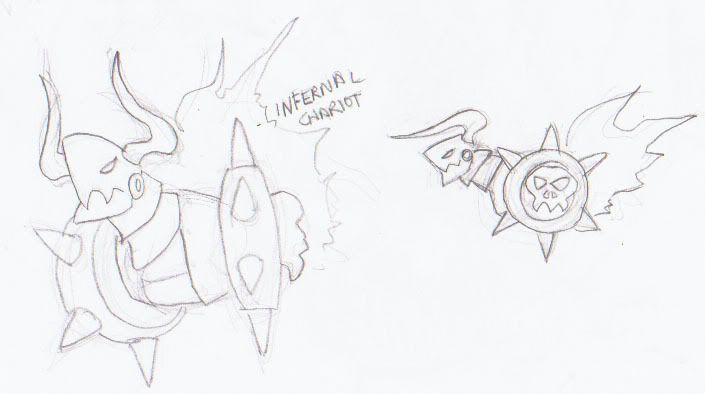 Infernal Chariots, a class of daemons that are tasked with transporting corrupted souls between the regions of hell within their burning bodies. Gameplay wise, they are charging type enemies. They float around slowly but once they got you lined up, they beeline for you. They also leave a trail of fire that persists for a while, which limits your movement options. These guys will probably appear in moderate numbers from the middle to the end of the game. Their weakness would be being shot and slashed from beneath.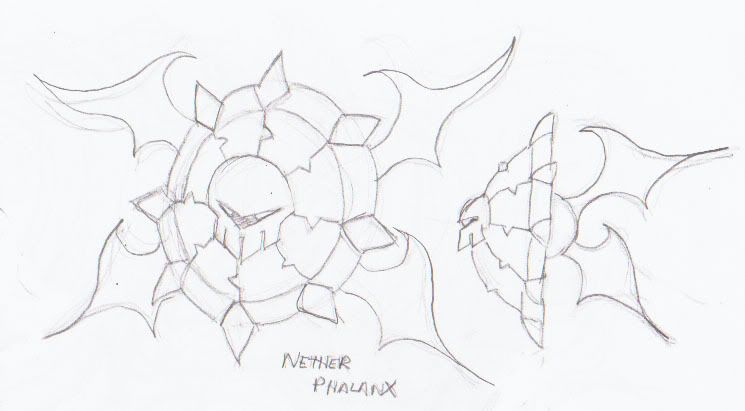 Nether Phalanxes are shields possessed by daemons. They form unbreakable walls at the gates of hell, ensuring souls are kept in as much as trespassers kept out. Nether Phalanxes are a support type enemy, immune to all attacks from the front. When approached, they will do a quick ramming attack which inflicts low damage but sends you flying backwards. They generally appear in battle alongside warlocks and liches, shielding them from attacks. Their weakness is being flanked, as they are slow to turn. Their wings are also vulnerable to ranged attacks from above and below.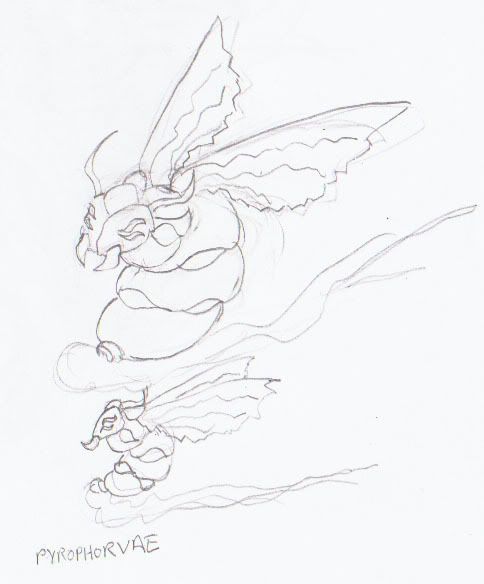 Pyrophorvae. These are a race of lesser daemons that feast on the hatred and fury of the souls of hell. They have extremely volatile bodies, exploding terrifically at the slightest agitation. Used by the King of Hell to spread hate throughout the Earth. Gameplay wise, these guys are homing suicide bombers. They fly moderately fast and hound you endlessly, exploding on contact. They do have a slow turn speed however, chasing you in arcing patterns. The strategy is to shoot them as they come and to fly past those that get too close and then shoot them when they come flying back in an arc which gives you distance. These guys basically serve the function of homing missiles, to create some 'itano circus' missile frenzy Macross-ish moments. Maybe some bosses will summon them to assault your ass.
And those are the enemies conceived thus far. Will come up with more when less lazy.
======
With that, I think I've laid down the foundations for a new game. Somewhat more sturdy, but being a simple action game idea it is somewhat easier to conceptualize. Fly around, kick daemonic ass from every direction in a adrenaline pumped action game.
Funny how this idea came along. I saw a random picture on pixiv of a chibi girl of sorts, lost the link. Then kinda went, I LIKE THAT. Then designed Celestia and gave her blade arms and was like THIS SHALL BE AN ACTION GAME and the monster designs kinda flowed one after another. I was thinking of a platformer with limited flight, then I thought of Grid Wars and was like - why the hell not that? And having played Koumajo, a Touhou themed Castlevania probably had a hand in it somewhat since it has a flight based mechanic. Plus being able to fly around kinda breaks free from the usual tedium of just running in one direction and slashing that way.
And with this, I think I'll put those post to a close. Will see to creating coloured concept art.