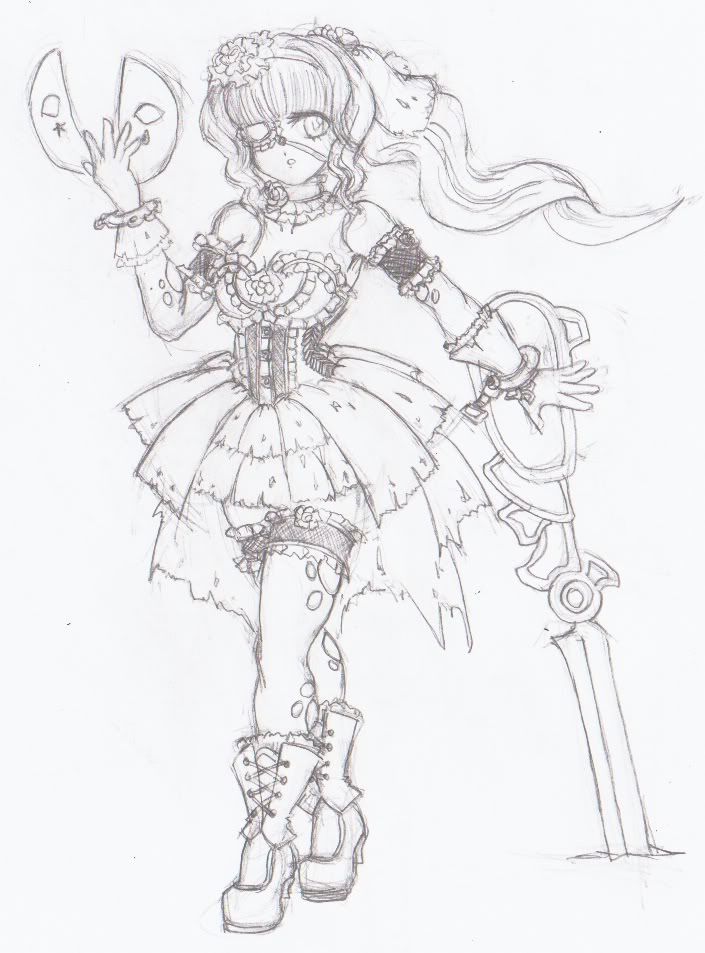 A world filled with lies. A world where reality holds no meaning. A world where nothing can be defined.
The Eternal Masquerade.
Countless ever changing realities, mutually exclusive from one another. All but a mask upon reality.
—
1-2-3


Locked in embrace.
1-2-3

To whisk and turn.
1-2-

A waltz cut short.
1-

The lies are torn asunder.
3-2-1

The Masquerade ends.
0

Now awaken.
—
As the mask split clean in half from her face, she froze. There was no longer music in her ears. Only a strangely nostalgic noise resounded within the depths of her mind. That was right.
Thought.

Just how long was I dancing for?

Just why was I dancing?

Why have I stopped?

Why is everybody still dancing?
As if nothing was amiss, the various couples continued their chassé around the ballroom. Even without music. Even though the chandelier gave no light. Even though the carpet was long worn out.
The masked gentleman before her simply stood still waiting for his partner to resume her step. But she could no longer dance.
The strings have been severed. There was no longer any purpose or meaning. Only emptiness.
She grasped desperately at any thought she could.

I have to leave.
Thus she acted upon it. It was the only direction she had. She wove through the dancing couples, leaving her partner motionless awaiting her return. As she reached the hallway, she broke into a run.

I have to leave.
Out into the dark hallways. Through rotting oak doors. Down a spiral staircase. And finally out of the ruined castle walls.
A vast expanse of space sprinkled with countless lights spread out before her eyes.
…
Suddenly a shadow eclipsed everything. The music started to return. A mask closed in, to return her to the pretense of a life.
Then there was a flash. The shadow faded and the mask was gone. All that was left was a blade embedded in the ground and a voice in her head.

Let us end this charade.

———————————————
I was going to just rant off about what this is supposed to be all about and I ended up trying to write something instead. Weirdness.
The basic premise of the story is that there was a pretty normal world. Then beings from a completely different plane ended up in the world and they were completely incomprehensible to the native folk. And these beings could completely alter the reality of the world.
And so they turned the world into their playground, each being controlling their own different little pocket of their own falsified reality. Messing with people and existence itself.
Then one being kinda got bored and decided to ruin the fun for everybody.
Thus the girl managed to awaken from her eternal ballroom dance. In that particular reality pocket, it was governed by a being that just wanted to observe dancing. In that warped reality, people could keep on dancing with completely blank minds, never hunger, tired or age. The girl had been dancing in that state for so long that when she was released, she was simply just empty. Perfect to manipulate by the deviant being that wanted to crash the party for everybody.
So begins the action-adventure-mystery-mindtrip through various pockets of reality, causing all sorts of anarchy. All of these pockets of reality function differently with their own set of governing laws. Some are not too different from the regular world. Not everybody is a brainwashed tool.
At any rate, I kinda just had a setting and a premise and I have no bloody idea where I'm truly going with this. I'll probably go brood over it when I'm less sleepy.