The butterfly contradiction was unintentional but now that I think about it.... hey thats cool.
And thus this begins a spinoff!
ZA PAPILLON BRIGADE!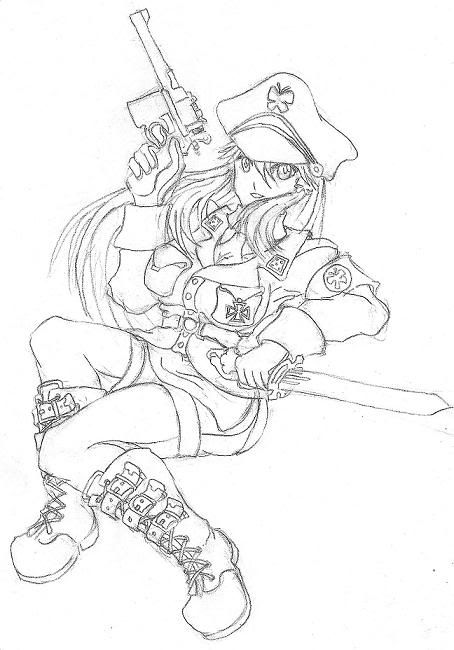 Somehow I've decided that this spinoff will be about a squadron fighting for the freedom of their country. A huge war has broken out between the Imperial Suns and the Freedom States, with the nation of Fenrir is caught in between their struggle. As Fenrir occupies key strategic points and supply routes, both nations attack Fenrir. Freedom States do so in the name of 'freeing people under tyrannic rule'. The Imperial Suns do it under the guise of 'showing the plebeians the road to glory'. Erika Rosenthal, in name would be the head of the 31st Wolf Squadron but actually leads the Papillon Brigade, a special elite force composed out of few but specialized and experienced and highly skilled members. And so they travel across their nation, disrupting enemy assaults from the core, infiltrating enemy lines, assassinating enemy commanders in their attempt to aid their nation in fighting a war on two fronts.
And so Erika would be the Brigade leader, wielding a Mauser C96, a Katzbalger and of course, those steel toed boots of hers that can kick skulls off necks. Her Mauser C96 might seem simple, but is actually a special experimental weapon that can be loaded with Anti-Tank bullets.
The Lord would just be called Di Achtung here I guess. He's the brigade marksman and wields a Gewehr 43. He's a total coward and a pansy, but as long as you keep enemies beyond arm's reach, he'll never miss.
Rival Butler would be… well whatever we call him in this, he's a crazy brawler and still has his flaming fists. Might not seem like the biggest guy, but has immensely dense muscles and is capable of punching an IFV into oblivion.
The Poltergeist would end up having the code name Geist. With her face hidden under a gas mask and her frame hidden within a suit of body armour, she wields a flamethrower. The sight of her blowing flames into your face with her hair billowing out behind her is enough to command fear into most enemies. Her design would be a tribute to Jin-Roh's Protect Gear. Her flamethrower can accept an additional canister of special fuel along with the regular fuel intake from her backpack to blow out a much more intense flame that can melt even tank armour. It overheats the flamethrower extremely quick however, and damages the user due to extreme heat radiating back.
The Butcher would actually be an Imperial Suns agent, sent to hunt the Papillon Brigade. But in the end, a plot is unveiled that the Imperial Suns plan to take out the Papillon Brigade with an airstrike along with him. Realizing the dishonourable ways of his home nation, he helps the Brigade escape and ultimately ends up joining them to stop the foolish war. Wields an oversized katana, capable of beheading entire squadrons and bisecting tanks.
The Lord's Fiancee and her secret service agents would probably take the role as the Freedom States Special Forces or something. As for the Ancestral Ghost, I have yet to think of a role yet.
I'll probably need new original villains that are exclusive to this spinoff though in the end.
While Battle Maid Chronicles is a single player crazy as hell slasher, akin to something like Megaman Zero, I'd compare the spinoff to something like Contra or Metal Slug. It'd be an up to 4 player side scrolling cooperative beat/shoot/hack em up. Each character will have a designated ranged, melee and special attack. They'd be able to jump and maneuver up and down a plane, so its not just plain flat like Contra or Metal Slug. Well, there'd be too little space for 4 players otherwise.
Its fun working on concepts.