New idea pitch. An idea for a fantasy action rpg videogame. From premise to gameplay.
PRINCESSCAPADES (Name is subject to change)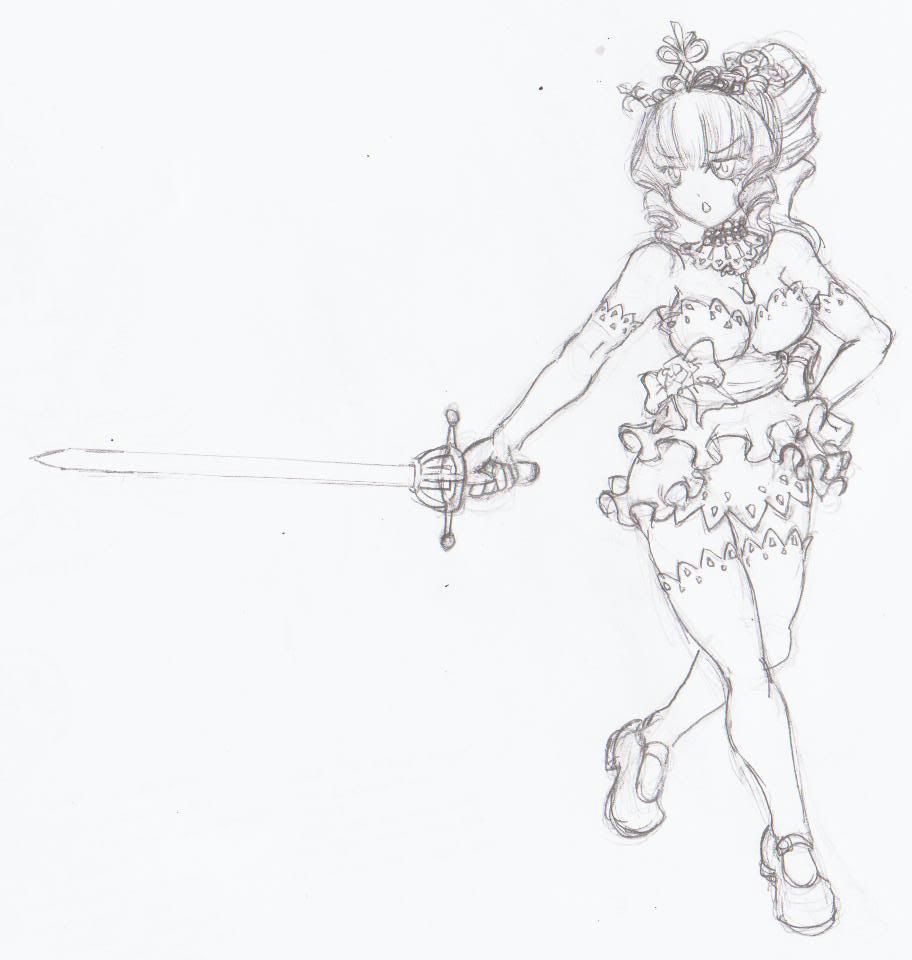 Character design also subject to change.
Once upon a time, there lived a princess in a kingdom with an obnoxiously long name. She lived a happy princess-like life waiting for her prince charming to strut along when suddenly, during a party THE EVIL LORD OF EVIL abducts her! She is locked up in the EVIL DUNGEONS OF EVIL awaiting an UNKNOWN FATE OF THE UNKNOWN other than the fact that it is key to WORLD DOMINATION-- OF DOMINATION! OF THE WORLD! Uh.. yeah.
So she is twiddling her thumbs in a dungeon cell, thinking that any moment her prince will come charging in and saving the day. Instead she gets the day's papers!
HEADLINES! PRINCE CHARMING ELOPES WITH KNIGHT IN SHINING ARMOUR! HOMOSEXUALITY ON THE RISE!
Oh bloody hell. Even the Plan B ain't coming. Whatever shall the princess do?
TAKE MATTERS INTO HER OWN HANDS.
But how? She is in a dungeon cell with no way out. So, look around for clues!
There is a skeleton with a bag. Oh snap! This bag. It is the standard issue Adventurer's Bag for Adventurers! The versatile, ever useful INFINITE BAG OF INFINITY! It is a bag, and you can fill it with years worth of potions, armour, weapons and supplies and it will never be full. Seems to negate mass as well. I guess we could call it the INFINITE WEIGHTLESS BAG OF INFINITY AND WEIGHTLESSNESS... but lets just call it THE BAG.
Inside there is a buncha copper coins. Whoopee.
But suddenly! THERE IS A TRAVELING SALESMAN TRYING TO SELL THE PRINCESS STUFF THROUGH THE BARS OF HER CELL DOOR!
And good thing he is selling a LOCKPICK SET! OF LOCKPICKING! And it is only worth a few coppers.
Thus begins the Princess' quest. To escape! To defeat the EVIL LORD OF EVIL! TO SAVE THE LAND!!!
-----
This is the premise of the epic action RPG adventure dungeon crawli--- whatever. You play as a princess who has to escape the clutches of the evil lord. But it would be too easy if it just ended with escaping. Normally princes and knights have to beat the evil lord and save the land along with rescuing you. If you just plain escaped, you'd probably get captured again. So defeat the evil lord it is!
But how will a princess untrained in the arts of combat manage to beat the evil lord? Of course through extremely convenient deus ex machina items!
-The Swordsman's Skillbook of Swordsmanship
-The Wizard's Spellbook of Wizardry
-The Rogue's Guide to Being a Rogue
-The Archer's Art of Archery
"The writer sure has a redundant writing style of redundancy!"
Awesome books with lots of redundant information that hammer the knowledge you need into your brain! And thus the princess becomes a seasoned fighter with just some book reading.
The idea is that the first few areas of the game introduces you to the set of disciplines you will/can use to get yourself through the game. Finding a book also means you find the equipment required close by. Now onto the combat system.
The idea with the combat system is that there will be a distinct difference between armoured and unarmoured opponents. Unarmoured opponents can be taken out the usual way. Armoured opponents? This doesn't mean they take less damage or have an extra health bar labelled armour on them. They are impregnable steel coated knights. Thus you gotta find ways around their defense. Also there is a fatigue system, so you gotta use your moves wisely too.
First Swordsmanship.
Swordsmanship is divided into Fencing and Two-Handed. The general gist is that you have to aim your weapons, and aiming at different parts of the body results in different sorta actions.
Fencing is the use of thrusting swords such as the rapier and the estoc. Fast with decent reach, but poor defensive capabilities. Your blows are easily deflected, you can't deflect blows easily. So it is speed and precision and strong at duels, so you want to get your enemies to come at you one at a time. Against unarmoured enemies, you can easily poke the hell out of them as long as they aren't swatting your weapon away with swinging weapons. Just time it right. Against armoured opponents though? Not so easy. You have to take them by surprise, at which their weak spots will be highlighted and you can go for it. A good thrust into the armpit will take them out. So will getting them clean through the slit of the helmet. From behind, you can stab them behind the knee and drop them on a knee, and then you can perform a special finisher where you smash the side of his head with the pommel of you weapon and drop him to the floor before stabbing him in the face. Or something like that, either way they are one leg down and with their mobility hampered, easily finished off or avoided. Essentially you have to ambush armoured opponents, or wait for them to slip up or exploit openings after dodging attacks. Also does not tire you out much, leaving you energy for moving around or even disengaging. A duelist's weapon essentially, speed and precision.
The Two-Handed sword isn't just a aim and poke weapon. It has two stances, the default and the Half-Sword. In the default stance, you can slash or hew. You aim with a line shaped crosshair/aimingthing that outlines the arc of your slash. You slash with respect to your movement. Slashing is the default attack, decent reach and coverage and cuts up unarmoured opponents as well as providing decent defense against enemy attacks. It can swat rapiers and estocs aside while clashing equally with other edged weapons. Utterly useless against armoured opponents. Hewing is a strong put your back into it attack. Probably executed by holding down your attack button, Slow and powerful, takes out unarmoured opponents in a single swipe. While it won't hurt armoured opponents, the blow is still strong enough to knock them around a bit. Possibly knock them unconscious if you get their head. Missing a hew means you leave yourself open to counterattack. Either way this is probably your preferred choice against a large amount of unarmoured enemies in open areas, allowing decent balance between offense and defense. Extended combat means you tire out however, so you have to watch yourself.
Half Swording is used as an alternate stance with the Two-Handed sword. Probably easily switched to and fro with the designated 'alternate fire' button so to speak. The half sword stance has short range but a large variety of attacks aimed at disabling an opponent before following it up with a killing blow. I always wanted to implement Half Swording as a gameplay idea somewhere..... Default attacks is a simple club and thrust combo, a quick short ranged club with pommel followed with a stab with pointy bit. But where the weapon shines is through its 'variety via targeting'. If the enemy on guard, the system doesn't activate. However, if you catch your opponent off guard you can perform special moves. Targeting their legs results in using your weapon's crossguard as a hook to lift your opponent's leg and tripping them over. If you are quick enough, then you can thrust through their helmet as a killing blow. Targeting their head results in a powerful pommel strike to their head, dropping them onto the floor. Again, if you are quick enough you can use your good thrust. Or if you can get around their back and catch them unaware, drive you sword through their armpit for an instant kill. While this stance can be used against unarmoured opponents, you will generally find that the default stance and fencing will be more effective. Less tiring to use than the default stance.
Overall the Two-Handed sword with its stances are most characterized by strength and versatility.
Swordsmanship will probably be the bread and butter of combat.
Wizardry
Wizardry is the use of the Wand and Staff rather than having a buncha spells at your beck and call. Quite contrary to the Wizard's SPELLbook of Wizardry but the books are nonsensical items already. Magic generally does not differentiate in use against armoured or unarmoured opponents. Armoured opponents might be resistant to certain wands or staffs however.
The Wand is like your trusty sidearm. Weak but fast to fire. Depending on the wands you have, they might even have a variety of debilitating effects. Prolonged rapid fire will tire you out so you will have to watch your fatigue. Akin to a FPS submachinegun. Somewhat aimed at softening up enemies at range before switching into melee combat. You can also fire from cover with the wand. Which means there is a cover system. Generally to debilitate and harass.
The Staff is the heavy weapon. The rocket launcher. There is a fair bit of build up time at which while you can adjust your aim, cannot change your position. Also tires your character out in a single blast, so you gotta make sure your shot is worth it. Generally does stuff like launch high explosive fireballs or magic beams of utter annihilation. Not many things can survive a hit from these. A tactical use weapon, good for ambushes or attacking from a terrain advantage. You can't fire these from behind cover.
Wizardy provides powerful ranged options but lack defensive options at close range. A wand does not provide enough stopping power to drop a swordsman that is ready to swing at you in a few seconds. Either used to soften approaching enemies or annihilate small groups of enemies by surprise.
Being a Rogue
The rogue is split into the Dagger and the Dart.
The dagger has limited use in direct combat. It does light damage to unarmoured opponents and is utterly useless against armoured opponents. And it has really short reach. The idea is that it can kill people silently. While you can ambush people with the aforementioned weapons, you tend to cause a big flash or let a guy scream. Sneak up on somebody with this and you can hold their mouth shut while you slit their throat. Or stab their heart.
The dart is an ammunition based ranged attack. The dart generally does little to no damage and is hopeless against armour, the range sucks but has a variety of effects along with rapid fire. You can toss a bunch of poison darts and run away while your enemies slowly die, or even the odds with a fast acting paralytic before switching to a more viable combat form. The idea is the ability to engage and debilitate multiple enemies in situations where stealth and dagger will not work. Darts can also be used stealthily. In a situation where getting close with a dagger means revealing yourself, you can stay hidden and hit people darts. Only the person you hit knows where you are but he drops soon after from poison, leaving his mates to be confused. So you can escape and relocate and do it again.
Rogue skills are for stealth and disruption. Take out lone enemies without causing an alarm, spread confusion and discord amongst larger groups.
Archery
Archery is divided to the longbow and crossbow.
The longbow is a versatile but difficult to use weapon that is capable of performing decently at various ranges. General idea is hold down attack button, draw bow and release arrows. The weapon has the special property of letting you stick arrows into the ground if the terrain allows, greatly reducing reload times. You can fire rapidly at multiple opponents at the cost of range and power. Full power shots at close ranges will hurt or kill armoured opponents, but you gotta be willing to take the risk. Also tiring to maintain the use of full power shots. Plus you will continue to tire out while keeping your bow drawn, like while holding out for an armoured opponent to close in enough or to get a better aim at enemies. Long ranged attacks require a good understanding of arcing your projectiles. Utilizing long ranged assaults with relocation can also confuse your opponents in open environments.
The crossbow is far easier to aim and shoot in comparison and has good accuracy at close to mid ranges. Just click and shoot. However the reload times are atrocious. Great way to open up an attack. Let off a shot, switch weapons and reload later. Also allows you to shoot from behind cover.
Archery provides more consistent firepower than Wizardry, but can be difficult to master. Also limited by ammunition.
The gameplay ideas are a toss of some new and old ideas, but I'm trying to reflect some realistic-ish aspects of medieval battle. I might split armoured opponents into several types even. Maybe theres lighter mail armoured enemies, or partial plate enemies. Heck, maybe even shields.
Not Fighting at All!
Sometimes the powers of persuasion can get you through. Some enemies can be spoken to and reasoned with.
"Why should I listen to you wench?"
*Squeezes breasts together*
"IT IS A GOOD DAY TO DIE!"
Or you can simply avoid conflict altogether in various other ways.
Role Playing Game
It is a role playing game in this aspect. You get to choose how to do things. As you journey from out of the dungeon, you enter the castle grounds and there are various buildings and areas at which you can choose to start at. The Evil Magic Tower, the Barracks... bla bla bla. Either way you probably have to go through the bulk of them before you can gain access to the Evil Main Castle of Evil.
As you make your way through, you will find some less than motivated/smart/brave/loyal minions of the Evil Lord. Some support you by default but have been forcefully pressed into service. Some are just real stupid and can be tricked. Some don't want trouble. And you can present yourself as the current bigger threat to their lives than the Evil Lord. Also there will be prisoners which you can free and use towards your goals.
There will probably be a disguise system of some sort. You can don certain outfits to avoid conflict in certain situations. More alert guard patrols will stop and recognize you, the more lazy enemies will just walk past without thinking.
You can probably take over a building somewhere and gather supporters and potentially incite a rebellion. You might through snooping around, find a diary of a minion aiming to ursurp his superior. By placing that diary elsewhere, you can cause some trouble.
So how will it be in the end? Murder your way through everything? Incite a rebellion and turn the powers of evil to the side of good? Show that you are even more evil and take over the place? Or cause enough discord that the whole place falls apart?
---
Either way the most ridiculous start of an idea has escalated into quite an ambitious idea with a silly amount of posibilities and new game mechanics. The idea can actually be dissected. The gameplay ideas can easily fit into any other fantasy premise. The story premise can be retold as a linear story. Either way, haven't had a grand idea since Project Hive and it has been fun getting this all out. Hopefully I will get a chance to make this someday.