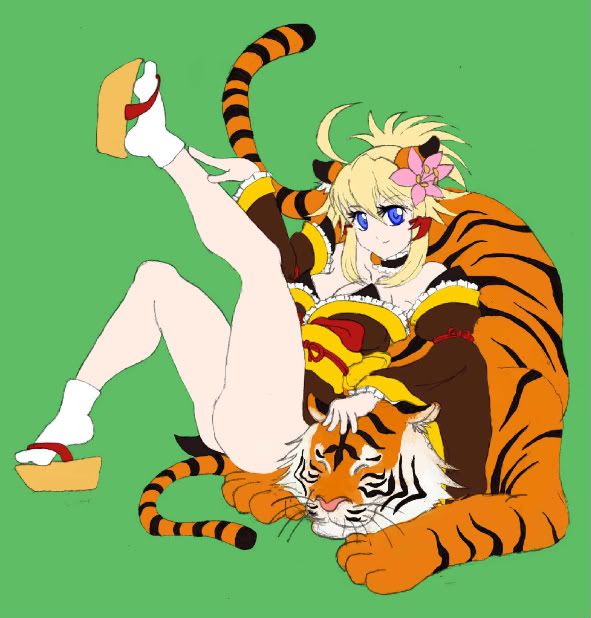 I tried colouring it and the lines are really too rough and I really don't know what I'm doing. And mouse control sucks(or I'd digitally redraw the lines). So I didn't get really far and never reached shading.
Suddenly I wanted to make a Post Apocalyptic RPG. I just have to let it out now. If I could make it, I would!
Post Apocalyptic RPG 101
1. How did the world end?
In some fictional world not completely unlike ours, people got too crazy and the world got too polluted. The melting of the ice caps caused a great decrease in available land, causing various conflicts which escalated into a world war in which eventually enough nuclear bombs were dropped to cause a nuclear winter. The atmosphere is filled with all sorts of junk thrown up by the bombs and the world has essentially frozen over. People are like cockroaches however and not everybody has perished. Most life though has.
2. Who the hell are you?
A super soldier of the Hive project.
Started by Nation X to give it an edge over everybody else. It first started by modifying soldier's brains with a cybernetic implant which allowed them to communicate with one another via some new fangled quantum communications network. It wasn't perfect, caused brain cancer and people could read each other's thoughts which lead to all sorts of other shit.
Eventually evolved to use of AI controlled machines, but AI was limited and it wasn't worth doing.
Advances in nanotechnology(yay) and bionics led to them creating a bioroid super soldier. Better than us in every way of course and comes with a natural carapace and can self repair itself(assuming the damage isn't too severe). But AIs are crap and these things didn't function very well. So they came up with the idea of extracting brains from people who wouldn't be missed, adding computer bits containing an AI and merging the whole lot to create a humanly intelligent, adaptive and learning 'bio-computer' of sorts with no free will. Ordering them around was a mess in itself so they were all hooked up via that quantum communications system to each other and to a central 'control-unit' which relayed all their orders. Control units was a more advanced version of the whole bio-computer an individual soldier was, hooked up to various other systems where it could receive its orders and intel and relay the data to its soldiers. Being linked to its soldiers in a network, a hive can learn and adapt to different combat situations but yet was missing a free will. So you got yourself intelligent learning super soldiers who are fearless and never question orders. People in this nation weren't dumb enough to land themselves in a Skynet situation.
Linking every damn soldier to a single control unit was dumb, and people knew that so there wasn't just one Hive but various. Each different Hive also experimented with different technology, be it with control units or soldier modifications.
Upon failure of a control unit, Hive soldiers will obey the closest high ranking military personnel they recognize.
You are a soldier of Hive 072.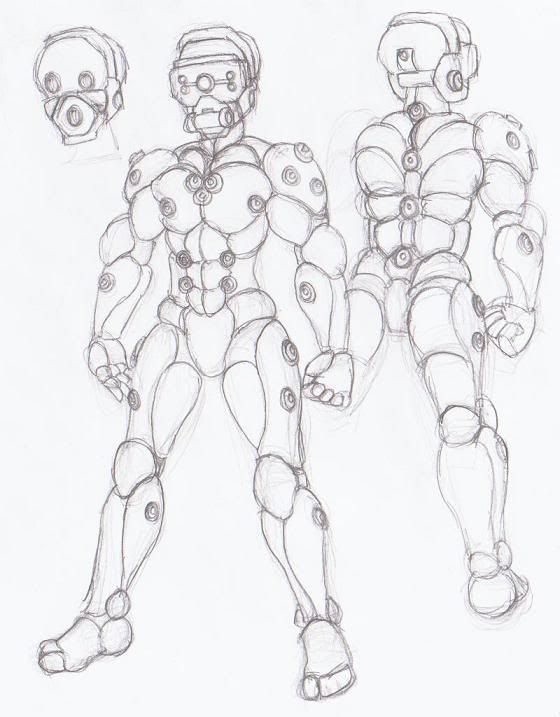 Scout configuration. Equipped with advanced sensory equipment. No armour equipped besides its own 'natural' carapace and yet its still more resilient than the modern soldier. Used for recon and infiltration.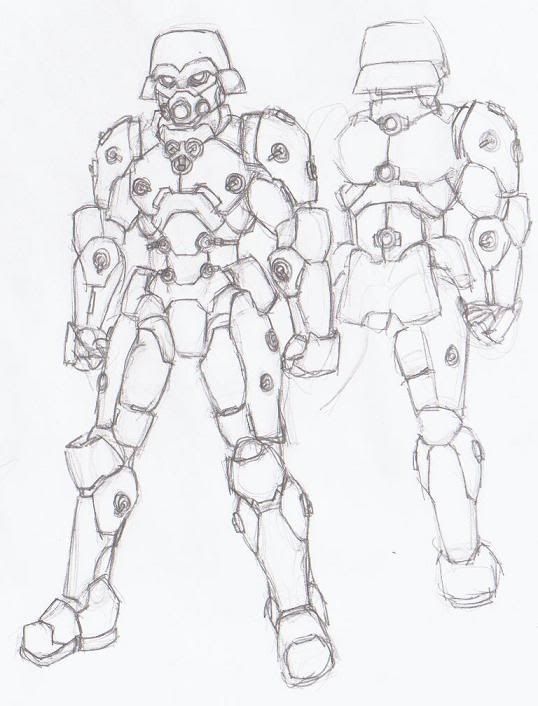 Soldier configuration. Special battle armour is equipped throughout its entire body offering increased ballistics protection. The battle armour contains a vein network that links up to the soldier, allowing its nanomachine rich blood to flow throughout it and thus offering the armour the same advanced regeneration the soldier is capable of. The armour does come at the cost of speed and flexibility however. Equipped with general purpose eye sensors and a helmet.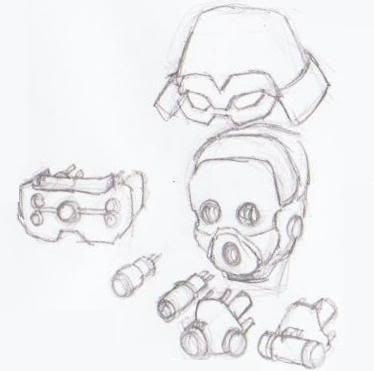 As seen, these guys lack a face. They have plugs for eye sensors and a mouth hole in which breathing apparatus/speech module is attached.
Each soldier is fueled by a combination of condensed nutrient fluid and bioelectric batteries and can operate in the field for years on end without refueling.
Hives 070 to 079 were a series that utilized alternative control unit types. Most control units were essentially a removed brain with computer parts attached and hooked up to heaps of hardware. The 70 series experimented with the idea of a 'human' control unit.
070 to 074 were prototypes to 075 to 079. They took full human beings and modified them directly to be the control units, but they still lacked their free will. 075 to 079 would use the same modification process which would have been perfected by then, but military personnel would be modified to create commanders that retained their free will. The 070 series were small hives, consisting of around 20 soldiers each. Hives 070 and 071 were failures, the control units dying in the modification process. 072, 073 and 074 were successes and were assigned to defense. 075 to 079 seemed like they would work but the commanders eventually went mad from information overload and had to be shut down. The soldiers of the failed hives were assigned to other hives.
3. What the hell do you do now?
A nearby nuclear bomb sent an EMP wave into the area you were operating. Most of the soldiers you were operating with had their brains fried. You somehow managed to not only survive, but malfunction in such a magnificent way that you regained your free will. Being hooked up kinda blurred the memories of who you are, so you have to come to terms with yourself and about who you were and currently are. Set off, find survivors and maybe fix the frozen world or make sure it rots for good.
4. Who else is still alive?
Control Unit 072. Code name Queen Regnant.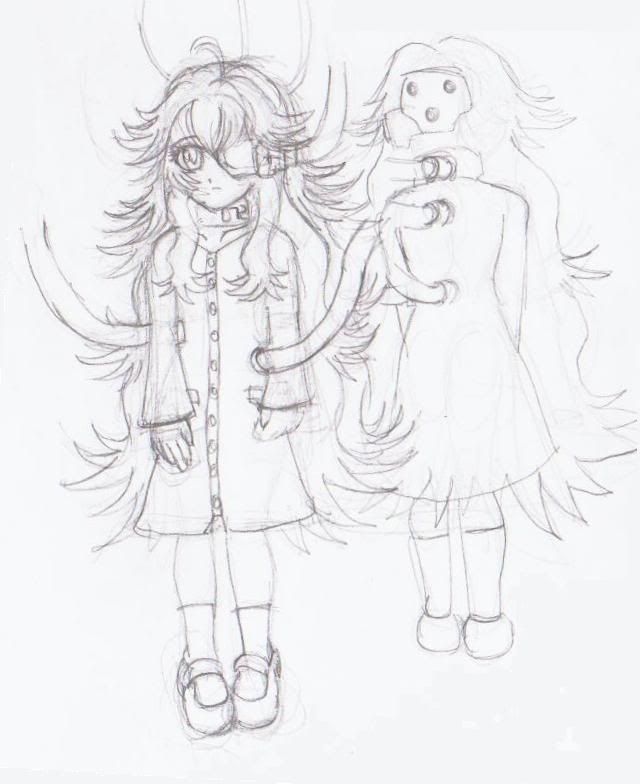 Being short of convicts and POWs and terminally ill people, a war orphan was used as the control unit. Also malfunctioned in the same magnificent way you did. Has an eye removed and a visuals device attached along with a modified brain. Her digestive system is also modified and she is sustained by the two pipes at her abdomen.
While she has her free will back, she has gone rather bipolar switching between an AI like intelligent(in a computer sorta way) personality to that of a little girl. She regained her free will before you did and has learned to use her abilities as a control unit, as well as having some time to come to terms with her situation(so you won't be talking to some blubbering scared bipolar 10 year old). Currently stuck in her bunker with a bodyguard squadron who obey her every word. Hive 072 was taking part in fighting off an invasion from another country, but got bombed and the bunker was sealed in. Not long after, the nukes dropped. She and you went comatose for over a year. You woke up a few months after she did.
She will be the first character you talk to, although remotely and the first 'faction' you are aligned to. She will provide you with most of the maps and area intel and world lore, although you kinda have to talk her into telling you stuff. She is after all a weird combination of a 10 year old and an AI device. Her main mission for you would be to bring the sun back, which you eventually find a way to do so and leads to one of the endings. Although you don't have to. She first tells you to come to her, so you begin your journey back to your hive and find a way to break in. Probably involving high explosives or railguns.
Even though you have gained your free will, she can still manipulate your actions to a small degree. Mainly paralyzing you, making your hud flash and nudging your movements(when you start walking in a straight line, you find that you are in fact slowly turning!).
Finding your Hive and a way in would be one of the first major things you would want to do, as doing so grants you access to different armour configurations and better equipment. She refuses to allow her bodyguard squadron to leave however, having grown fond of having them around so you are on your own.
Represents the 'default' faction you are involved with or get involved with. Like the Blades of Morrowind or the Brotherhood of Steel in Fallout 3.
Other factions would include:
Rag tag survivors.
Most people froze over and died, but some were resourceful enough to get some means of keeping themselves warm and fed. Generally random civilians. You find them all over the place and they might have stuff to trade with or stories to tell.
The Apartment.
Survivors managed to gather together and get a power generator working(yay electrical heating!). All holed up in some apartment building, prolonging their survival by searching for food, winter wear and fuel. Generally consists of civilians and probably the first other faction you find. You can trade food you find or do other quests related to helping them survive for weapons. You'll get stuff like baseball bats, crowbars and katanas to simple bolt action rifles and silly high caliber handguns. Trying to rebuild civilization in their own way and you can redirect rag tag survivors here.
Death Cult.
Madmen running around, killing everything that moves. They believe that god willed the world to end and thus are working to make sure it has truly ended. Rather the rag tag organization and seemingly doomed to die out due to their shoot on sight nature not winning them many recruits. It would be too boring if there was nothing to fight while you explore the place. Perhaps you can even find a way to join their quest of genocide.
Invading Army.
Higher level enemy encounters! Disconnected from their homeland, they seek to eke out a living on enemy soil. They generally try to kill you and everybody else although eventually you discover their HQ and can negotiate things with them.
The University.
Small group of survivors that mostly consists of students, professors, researchers and other sorts of intellectuals along with survivors that stumbled upon the place. They have a green house working and are able to grow their own food in the frozen world. Currently researching a way to fix the world.
The Military.
The survivors of your country's military. They search for survivors and stockpile food. A bit like the invading army, only friendly. Initially suspicious of you but eventually warm up or turn into enemies depending on your actions. You can give them intelligence on The Apartment or The University and they can join forces.
The Pre-Apocalypse government.
Prepared for such a situation already, they had built an underground fusion reactor along with underground greenhouses amongst other things. Mixture of government and military. 'The Military' knows of their existence and have an uneasy untrusting relationship with them(our government holed themselves up and left us out to die! Those bastards!). They seem to be trying to gathering survivors and rebuilding civilization along with searching out the Hives. Agenda is mainly unknown. The Queen Regnant doesn't trust them. The faction you work with if you want to leave the influence of your control unit as they have the means. This could lead to results like them taking over your hive bunker and turning your queen back into an obedient little doll.
Surviving Hives:
Hive 080. The 80 series had experimental soldiers and related equipment. Assigned roughly 200 soldiers each. Hive 080 dealt in experimental soldier bionics and augmentation. Hive 080 soldiers seem to appear in the oddest of places and seem to be operating under an unknown agenda. The control unit, code named Hermes might have regained free will just like you. Queen Regnant seems to have a fear of Hermes. Try to guess where I'm going here, the number 80 being a clue!
Hive 087. Hive 087 dealt in experimental heavy weapons. They seem to be defending the sector around the hive, refusing to budge and attacking all intruders. Queen Regnant's attempts to communicate with their control unit has been met with failure. Apparently their last order was the defend that area.
Independent Hive Soldiers. Some have been disconnected from their Hive, either via malfunction due to EMP or their control unit having been destroyed. They wander around aimlessly, floating between engaging threats and protecting survivors. Some operate with The Military or the Government. You can send to your Hive and get them hooked up to the Queen Regnant. Doing so nets you intel on other Hives and allows the Queen Regnant to assign them potential beneficial duties. Such as salvaging equipment or escort or to protect a faction you are helping. You can also gain access to special armour parts and other equipment they had on.
Thinking of having a Hive where they had to use Animal brains, leading to strange and unexpected results.... maybe a Hive thats building an animal sanctuary and is fighting for the survival of other species. Or an excuse to have berserk cyborg gorillas to fight.
5. Gameplay!
Intended to be an FPS based RPG. A blend between Fallout 3 and STALKER. You generally run around, either exploring, talking to people or shooting them.
The direction the game goes depends on how you interact with the various factions. Like aiding the University enough eventually leads to them developing a nanomachine that can purify the atmosphere, hence leading to a good sorta ending. Their agendas would clash with the other factions. Like the Government don't want to purify the atmosphere just yet, they want to make sure theirs is the only country left standing in the world before doing that. The Military depending on how you interact with them, might side with the Government or the University. The Invading Army, assuming you managed diplomacy with them would aid the side of the University. The Apartment would be mostly inconsequential, being the faction that mainly introduces you to the world and allowing you to get used to the game. Perhaps the University requires the Government's facilities to disperse said air purification plot device, and perhaps the Government can be convinced into just saving the world and abandoning their previous agenda. Each faction will have its own internal affairs which you can meddle with. The University could be under threat from the Invading Army or Death Cult and letting them die out could doom the world, or maybe you can find another way of saving it. Hive 080 also has a mysterious role to play in all this....
The only RPG thing about the game would be decision making. You can't level up. Although in a sense you do by gaining access to better gear, but it'd generally offer you more options and possibilities rather than just being a power up flat out.
Grab system.
You can pick up almost everything, swing it and/or throw it. Including people. While picking up bricks and throwing/smacking things with them along with other useless objects will be pointless after you get enough guns and ammo, its still a funny thing to do. You can grab people, break their necks or start threatening them. Perhaps this is how you start talks with hostile factions.....
Rucksack system.
Instead of the typical easily accessible and usable inventory, you keep everything in an armoured rucksack. To get stuff in and out, you gotta put it down and rummage through it. You have belts and other things to latch on guns and ammo, so you gotta make sure you are keeping whatever you need in accessible places. You can also use the rucksack and mobile cover, or ditch the stuff temporarily(or permanently lol) for an increase in speed.
Equipment!
Different guns will be more than just a thing that spits bullets better than another, or faster or more accurate. Like the vanilla Assault Rifle will be great for all situations. A Carbine version of said Assault Rifle might have crappier accuracy, range and power but it will allow for better movement speeds, be quicker to reload and bring up and allow you to fire while leaning, hence representing its advantages in close quarters. (okay only the 'selective weapons can be fired while leaning' is really new here D:). Thinking of being able to find gun kits allowing you to swap parts for your guns, changing underslung weaponry, scopes, turning rifles into carbines and back and all that smack. Heavy weapons will be unable to be carried around unless equipped(things like recoilless rifles or .50cal machine guns). Thinking of having some more techy weapons, like the 35mm Personal High Energy Laser or PHEL 35. It'll be somewhere in between the usual depictions of laser weapons, either as pea shooters or deathrays. It'll function somewhere in the middle, being able to vaporise heads or limbs and blow up light vehicles with a well aimed shot. Will probably have a selective energy setting, allowing you to blind people at lowest setting and punch through a light armoured vehicle at highest. Also thinking of having fire and forget weapons like a man portable railgun which basically destroys itself through barrel wear, designed to at least last through a number of shots and having a battery that will only allow for such.
Along with your usual guns, you can wear whatever the hell you find assuming your current armour loadout isn't too heavy. You require access to special facilities, either Hive mobile bases or a Hive bunker to re-equip your 'main armour'. You can modify yourself for different ranges of combat. Like the scout visor will give you better zoom when aiming without a scope, binoculars and variable gamma correction which you can use to adapt yourself to the darkness of the world. A typical soldier's two eye sensor will have to depend on typical night vision for darkness, but the increased aiming zoom of the scout visor will be more cumbersome in mid/close combat. There could be a close quarters battle armour, which allows for quicker/stronger melee attacks at the cost of reduced protection.... variety of customizations to suit different play styles. Maybe an exotic lightning arm, which you have to recharge by siphoning power from whatever energy sources you find and using it to zap people, lowest setting for stun and highest setting for vaporization.
Trade
There will be no currency. Generally you have to talk to people to find out what they have and what they want(they usually want food). Maybe an exotic arms collector at The Apartment has a katana, and really likes instant noodles so you can convince him to give it up. Maybe you found a ration pack in a particular rare flavour and can trade a soldier for spare ammo. No fixed value of anything, only relative values. Finding a supermarket generally means you hit jackpot!
......
I think I said enough for now lol.