42317 wrote:
Well, I guessed so. I was rather aiming at your intention when you chose exactly that term. I hope you're not telling me that you just opened the dictionary and chose the first mildly esoteric combination you encountered?

Wouldn't be like you.
When designing the outfit, I noticed that thing on the belt of the outfits I based it off. I decided to not have the typical miko hakama ribbon thing and put that in instead. Then I was... man I need to put some text on there!
After searching around a bit, those two words which means Heaven's Blessing or something to that effect seemed like a suitable choice.
42317 wrote:
I was only a bit surprised at how composedly she accepts the fact that instead of a left eye she now has a glowing orb.
I decided to make her a bit more intuitive and resourceful (...) She can't really accomplish anything by sitting there and worrying about her glowing ball of an eye.[/quote]
True. But still... humans are very sensitive about their eyes. If something threatens to hit your head or face your eyes are the first thing you will intuitively protect, and even a slight attack on the eyeballs will have a very distracting effect on an enemy, more than hitting his belly with all your might.
42317 wrote:
Sounds cool... like now she is able to see and maybe summon the spirits that normal people cannot spot? That would make her a true Miko and distinguish her from everyone else.

Probably something to that effect. She's not normal, I'll tell you that much!
42317 wrote:
She's really hardcore carefree if she considers readjusting eyesight "fun".

Anybody else would be extremely worried. I mean, talk to a woman or a girl and ask her what she'd think about wandering alone in the dark in an unknown area with no means to defend herself. At least most women I know are quite afraid of being assaulted.
But, of course, if you're aiming at something lighthearted your choice is perfectly justified.
Was thinking about her mentality being a bit childlike. Curious, fearless and rather carefree. Don't know danger until they get hurt!
42317 wrote:
I'm enjoying this so far.

Glad that somebody is!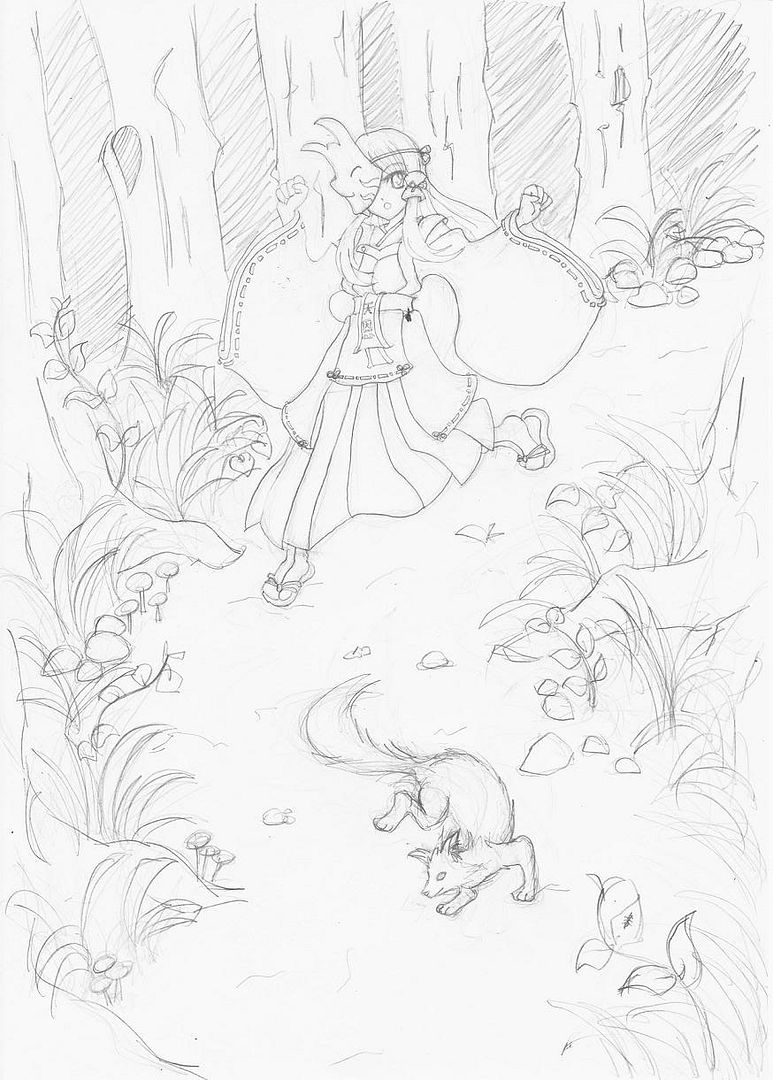 A scene from the previous part.
I started on part 2, and decided to finish it all with at least 2000 or so words(a length I'm aiming for) but I'm kinda stuck and not getting anywhere. Kinda need roughly 500 more words of substance. The previous two bits were part 1 as a whole.
....
She soon found herself on the move again. The cart gently rocked up and down with an uneven tempo, as the beast of burden trotted along. A cool and gentle breeze blew crisp air across her face as she recalled the night before.
"Good evening to you too young lady. Do you need something?" the man had replied to her greeting. He looked middle age, with a weathered looking face. She had stood there, stunned for a moment. Her mind worked as fast as possible to churn out a possible reply. She regretted the absurdities that spilled out of her mouth that moment.
"Uhm, I was being chased by wild beasts and I've lost my map and and I've been wandering around for days an uh-"
The man had stared at her for a moment, before breaking out in laughter. She stood there, stunned by his sudden outburst. The bundle on the opposite side of the campfire began to stir at the sudden noise. A figure sprang upright from within the bundle and let out a ferocious shriek.
"Oh sorry, did I wake you up?" said the man calmly, unperturbed. A woman had risen on the opposite side of the flame with her hair in a slithering mass of tangles. Distorted shadows danced across her face as the campfire flickered in the night. She let out a massive yawn and rubbed her eyes before looking around with a blank look on her face. After surveying her surroundings to her satisfaction, she cast a venomous look straight at the man.
"Is it morning yet?" croaked the woman. She was clearly unamused that her night's sleep had been interrupted.
"Nope." replied the man. His face was the very visage of serenity.
"Clearly not you oaf. Are we being under attack?"
"Not at all."
"Has our horse run away?"
"It loves me too much to."
"Is there something on my face?"
The girl stood there at a loss. The couple bantered on, the woman's questions starting to become more and more ridiculous.
"Have the trees come to life?"
"It'd be interesting if they did."
She took the opportunity to think about how to act when the conversation would inevitably turn towards her. What if they ask me where I'm from? What if they ask my name? What if they ask how old I am? A long chain of what ifs began to entwine her mind, with no answer to be found. Her train of thought was suddenly interrupted by a loud-
"THEN WHY HAVE YOU WOKEN ME UP?!!" screamed the woman in a fit of hysteria.
The girl jumped at the abrupt exclamation. Her ears rang as her heart thumped like it was a rabbit hopping away from a fox. The cry had reverberated through her head and destroyed any thoughts she had.
"You see-" the man had started to explain before being interrupted by yet another question.
"Just who is that?"
"As I was saying-"
"Oh, she is a priestess isn't she?"
More questions started to circulate in the girl's mind. Am I a priestess? What does a priestess even do? Why is she saying I am a priestess? The girl then realized that she was indeed dressed in the ceremonial garb of what many would consider that of a priestess. She then found that the odd couple were looking her up and down as if she was a once in a lifetime phenomenon.
"Indeed she must be one," declared the man in his usual calm demeanor.
The woman suddenly sprung up and grasped the girl's hands tightly. Time seemed to have frozen as the woman looked deep into the girl's eyes with a desperate look upon her face.
"You must help us!" pleaded the woman.
The girl had then learned that the dysfunctional couple were a trader and his wife. They were returning to their home village after trading furs for rice, which explained the cloth sacks that currently filled his cart. Their village was currently being plagued by a weed that had invaded their fields and devastated their crops. Various methods had been attempted to rid themselves of the plague, such as plowing the weeds over and even burning the fields to no avail. They had hence turned towards the supernatural for aid, but their desperate prayers towards the village deity had remained unanswered. The woman had since calmed down significantly, although she still spoke at an amazing pace.
"Don't worry about her, she is always loud when she wakes up in the morning," the man had explained.
"I am not always loud. It was because you woke me up in the middle of the night!" snapped his wife.
The trader's wife told tales of how the local priestess had called upon their deity to invoke rain in times of drought and other miraculous deeds, including calling the wind to drive away a swarm of locusts. Unfortunately the priestess had passed away many years ago, leaving no successor. She was sure that the reason that their prayers had not been answered was because they have not been performing the correct rituals. Her husband however, dismissed her tales.
"Bah, those were just bed time stories our parents used to tell us. We have never seen such miracles before. If it were so great, it would have gotten rid of those weeds already. Damn thing probably doesn't even exist, all pure superstition," retorted the man.
"Maybe it is because of your insolence that our prayers haven't been answered." his wife rebuked.
They had managed to survive the winter with food they had already stocked up on, but their granaries were running empty. The villagers had turned to hunting and foraging in nearby forests to keep themselves going. With the furs obtained from hunting, they could trade with neighbouring villages for grain. However without a harvest this year, the village would not last when winter comes again.
"Will you help us? You might be our last hope!" the trader's wife had begged. She had sincerely thought that the girl was their salvation.
"Uhm, I'll try my best," the girl had agreed, being drawn into their pace.
And with that, she was on the road again. The trader's wife had insisted that they make haste and return to the village immediately.
"Don't mind it so much, we won't blame you if you can't help us," said the trader to the girl, after noticing a troubled look on her face.
"Have some faith!" said his wife, sticking an elbow into his side.
"We can always just eat the weeds you know. We tried digging them up and found some potato like roots."
"Do you have any idea how bad they taste? They are probably poisonous!"
"Better than starving. We could always move elsewhere. As a trader, I could still make a living traveling around."
"Oh, so you don't care about the other villagers? And the fields our parents worked so hard on? You cold heartless-"
As the couple resumed their ceaseless banter about the effectiveness of prayer and the existence of the supernatural, the girl had some time to think about her next move.
She began to organize her thoughts. For now at least, she was a priestess. As she began to think deeper, information surfaced in her head about the role of a priestess. She recognized it as someone who was an authority on the spiritual, one who could communicate with the gods and could perform a variety of rituals such as exorcism or calling upon the dead amongst various other spiritual deeds. With that information at hand, she deduced that she would probably be asked to invoke the village deity through a ritual to solve their problems.
This troubled her for she was not really a priestess and hence lacked the knowledge to perform any sort of ritual. Additionally each different deity probably had rituals unique to them, so a random priestess wouldn't know of them anyway.
Should she come up with an excuse? Or say that she wasn't a priestess? But then she would have to explain why she was wandering around dressed as one. She also felt like she had to live up to their expectations due to the desperate pleading of the trader's wife.
After some thought, she settled on just trying anything came to mind at that moment. As long as it looked ritualistic, it should be fine right? She can just apologize and say she tried her best, come up with some excuse and then leave for the next village. For now, she just wanted a ride to some civilization and a place to rest and think about things.
Setting aside her upcoming trials, she started to analyze herself. Despite having no memories concerning herself, she had knowledge. She could read, dress herself and had common knowledge of the world around her. Having realized that, she wondered what else she knew. Perhaps she was a priestess after all, she did wake up in a shrine and manage to dress herself in a complicated ceremonial attire all by herself. If it was, it could be a chance to regain some memories by helping the trader's village out. There was a slim chance that she might somehow remember how to perform a ritual of some sort and regain her old memories in the process.
She now had a renewed sense of purpose.
.....
Thinking of ending it when they reach the village. But I'm really turning the last bit into a blegh chunk of internal thought cake beating. I have no idea how the conversations turned out, my writing experience is pretty much zilch. I should really get some of my novels back together in one place to use as a reference point. Thinking of having yet another conversation with the odd couple where she maybe says something for a change. Not sure how to actually bring it up and what about though. Maybe something along the lines of her trying to gauge what season it is? Which would be Spring-ish, since thats when farmers start planting their stuff. Worrying about things not growing in the Summer or Autumn would probably be too late.
I wonder if I should get too hung up over word count though. Should probably reread and possibly rewrite chunks and resort the structure. Since this is a rather mundane scene where nothing much is being done, it feels rather hard to write for. If not for the dysfunctional couple idea, I might not have gotten so far. Maybe I should have just made her reach the village halfway and get started on the supernatural business....