Been busy with other stuff so no updates lately. But I need some time off to come up with whacky stuff every now and then.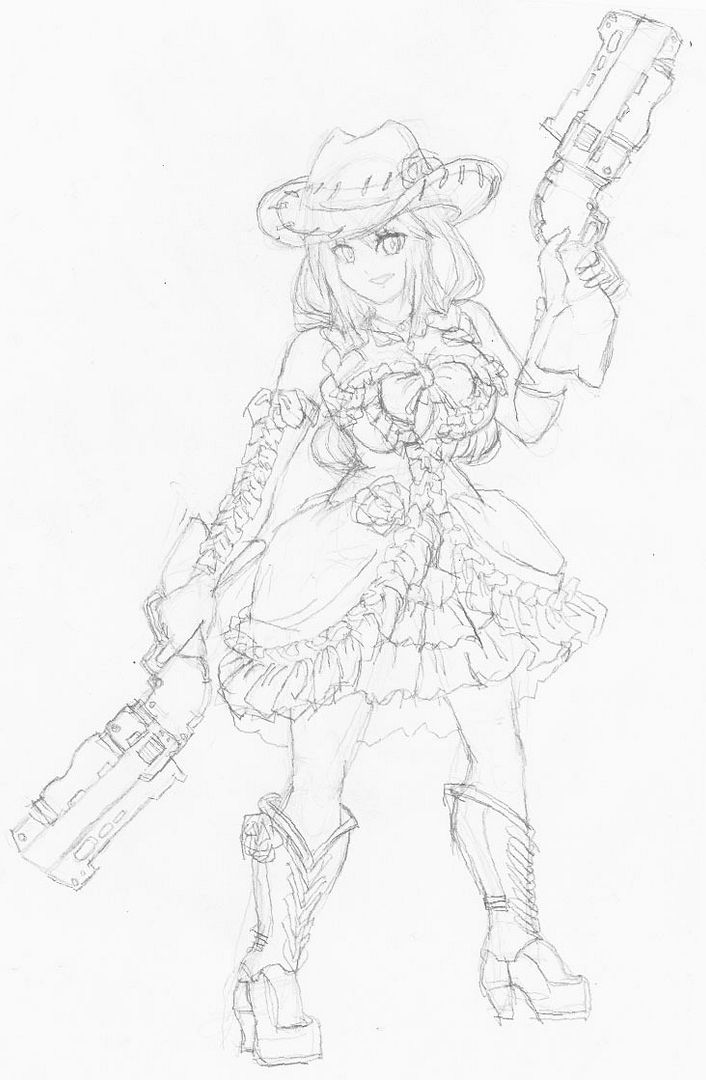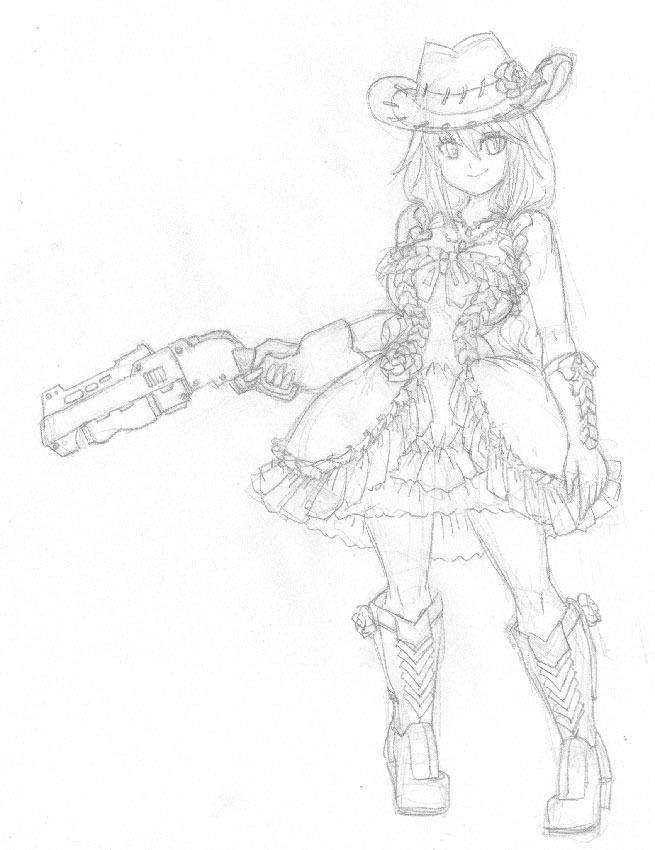 Lever Action Plasma Rifle! Just... because.
Well, a new character for a change. A friend decided I call her Elisia McToweldiver and I arbitrarily ended up with Merilyn McDowell.
As for how she came about -
http://i.imgur.com/PrzkL.jpg
My character in Phantasy Star Online 2 with a pink wedding dress. Basically I slapped that on along with braids and a cowboy hat and thought, that is gaudy but I kinda like that. And rolled with that concept into a gunslinger dressed as a saloon girl. Even though I played a melee class in the game, swinging around giant swords and stuff.
Conceptually there isn't much so far. Its essentially sorta Trigun. A random harsh planet is colonized by humanity in the future, but it gets all post apocalyptic down there and turns into a dog eat dog world. There's still a administrative faction with a decent amount of the technology hanging out, likely being the big bads.
Merilyn is essentially part of a post-human artificial race. Essentially humanity's idea of propagating their race on harsher planets. They are stronger, faster, smarter, more radiation resistant, blardy blar. The story will probably revolve around the remaining post-humans.
She herself works as a bounty hunter. Gets people's guards down with her getup and blasts them apart with her lever-action plasma rifles. Snarky as hell, wears a permanent smirk on her face. Sadistic like hell, though not exactly evil deep down. Just kinda warped. I was thinking that she'd mostly travel around but has a home she returns to every now and then, which is an abandoned armoury. There lives a cranky old gunsmith with more crazy than sense, who constantly salvages and repairs old weapons and gear. Then my train of thought led to the armoury being home to a bunch of orphans Merilyn had picked up throughout her travels. There will also be the 'older sister' of the orphans, who is likely the first orphan that Merilyn picked up who generally handles home affairs. I was also thinking of a rival/partner character for Merilyn, who is also a post-human who also uses the place as his home but travels separately from Merilyn when out hunting.
The idea behind the lever action plasma rifle was basically just me going, what's a cool cowboy weapon? Revolvers are so overdone! Lever action! Then I was thinking of some crazy double barreled lever action slug gun. And ultimately went, fuck that, its an energy weapon. Lever action to cycle through batteries. In Post-Apocalyptia, people still got working plasma guns but don't have good battery manufacturing skills and thus come up with funky ways to power their guns. Though I was thinking of how the plasma weapon would work, and imagined something like the shell containing a small battery enough to ignite one shot along with some magnetized core within a fuel gel. The battery ignites the gel and charges the barrel, the gel explodes into plasma and the lot is propelled down the barrel. The magnetized core keeps the plasma from dissipating. Though I get the feeling its just better to say - its a plasma gun, it shoots plasma, who cares how than to trip over myself trying to explain science fiction. The gun itself was inspired by the Mare's Leg, and takes cues from big bullet revolver/pistols like the Desert Eagle. Not sure if I want her to dual wield them or not, but I like the idea of twirl-loading, spinning the gun 360 to work the action. Also, Merilyn hides spare rounds within the frills of her skirt - ammo bandolier in disguise.
I was thinking of the older sister wielding a pump action plasma cannon. It'll probably be based off the China Lake grenade launcher. The Rival will probably use something drum fed. Either like the MGL or the Striker shotgun.
I'll probably go sleep on all this before coming up with more designs. Work will probably get in the way again so it'll probably be a while.
Extra: Bunny Girls.