42317 wrote:
Another example would be Guatemala. Anytime these weeks I hear or read "Guatemala" it's about the following things:
- an earthquake
- storms
- a flood
- another earthquake.
Wolfwood
is from Guatemala - or am I confusing things? Anyway, I was worried.
Actually,
42137
, I'm from
Costa Rica
, but I do appreciate you were worrying.
Costa Rica is sort of close to Guatemala though, both countries are in Central America, you are not so off your mark after all.
But, Guatemala is neighbors with Mexico (North America), while we are on the opposite side, next to Panama (which is the start of South America).
So you get a better idea:
---------------------------------------------------------------------------------------------------------------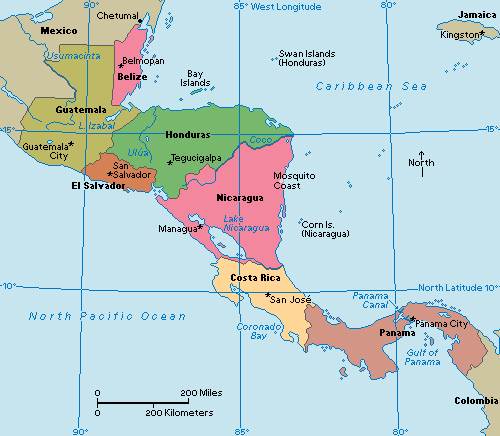 ---------------------------------------------------------------------------------------------------------------
And yes,
Guatemala
has been the recent target of nature:
1.
A volcano eruption, which is still active.
2.
A Tropical Storm, where over 150 people were killed.
3.
I can't recall any earthquakes there recently.
4.
A bizarre hole appearing out of nowhere in the middle of the city in the blink of an eye, I bet you probably didn't even heard of it.
5.
All of them within the past two weeks.
Here is the
hole
I mentioned before:
I think the image speaks for itself, it is pretty scary
I have a Guatemalan friend in college, and we were talking about the hole yesterday, wondering if we could make a canopy tour on the hole, which she called the "inferno hole" (All of this in a jokingly manner obviously). You can find more information on the hole in the internet. Apparently there is a scientific explanation which I haven't read yet.
Yea, on the curious side, Guatemala was home to the Maya civilization, yea, that same one that believed (as told by the media) that the world is ending in the up coming 2012.
I feel bad for their country. Guatemala lives two realities, there is a great percentage of people there who live in extreme poverty (including the native Guatemalans which are the descendants of the Mayas), and they are constantly hit by nature disasters. There is of course a small percentage of people who control all of the money. To top it all there is a lot of corruption in the Government and the Military, just as the rest of Latin America, this is an ongoing issue in this side of the world ever since the "colonization" by "Spain", when they stole most of the riches from here.
==========================================================================================
Costa Rica
on the other hand is the only country here in Latin America (as far as I know) that doesn't not count with an army, the Military was abolished over 60 years ago, to invest instead the money in education and health. So we have sort of a more stable economy, high life expectancies and a very good social health system.
And now taken from wikipedia because I got tired of typing (hehe):
"It is the only Latin American country included in the list of the world's 22 older democracies. Costa Rica has consistently been among the top Latin American countries in terms of the Human Development Index, and ranked 54th in the world in 2007. The country is ranked 3rd in the world, and 1st among the Americas, in terms of the 2010 Environmental Performance Index. Due to the high quality of its human capital, Costa Rica is the world's fourth largest exporter of high technology.
In 2007 the Costa Rican government announced plans for Costa Rica to become the first carbon neutral country by 2021. According to the New Economics Foundation, Costa Rica ranks first in the Happy Planet Index and is the "greenest" country in the world."
I'm not sure if we are the Happiest country out there, I really doubt it. We do have all sort of internal issues. There is the everlasting fight against poverty, some corruption among the traditional government families, some growing delinquency in the capital and of course preventing the destruction of our forest and tropical resources (construction of beach hotels and golf courses over primary forests, mining, transnational companies trying to drill our coast to look for oil, etc).
We've been blessed with two beautiful coasts, one in the Atlantic ocean and the other in the Pacific, which makes us vulnerable to hurricanes, tropical storms. Thankfully we've never been hit directly by neither of them, they've passed us by every time. We are also vulnerable to volcano eruptions we have lot of them here (there are some active ones, but no eruptions thankfully), earthquakes (we did have one last year, but it affected mostly the geography, taking down some roads in the mountains, some infrastructure in the area and very few lives. It was sad though, we are still trying to rebuild those places, they'll never be the same).
I don't expect you to read it through all my post (I know you are pretty busy right now, I just thought I'd give you a little idea of what Costa Rica is like I could go on forever talking about Costa Rica... )
==========================================================================================
Regarding the Gulf oil spill, I've read all about it. And browse through the pictures of the area, the animals affected, dead dolphins, birds, turtles, fish, don't want to even think how the sea life must be down there. It makes me sad and worried to see that they can't even stop a spill...
Unless the whole world really does start a change towards green technology we are heading to our own destruction, and bringing down all of the other species that have nothing to do with us.
But heck, we all use oil in our daily life, most of our transportation means... I don't want to start... I get pissed off thinking about all the pollution we make everyday...
Yea, I'm going to stop here, I have an exam tomorrow...